Turmoil of War Exposed in Raw New Exhibition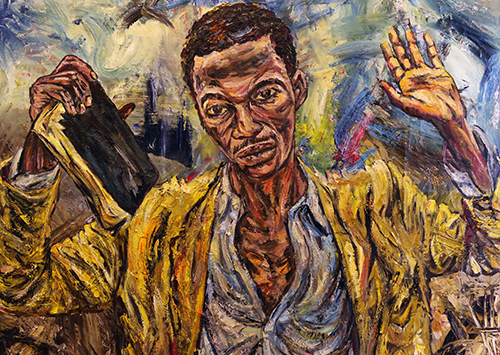 A new museum exhibition is a visceral mash-up of sepia-toned photographs and graphic paintings depicting the tumult of war.
The Realism of War: Works of Humanity by George Gittoes ultimately explores the internal battles fought by soldiers and civilians as they quest to hold onto their humanity in extreme circumstances.
The Blake prize-winning painting The Preacher, depicts a church minister in Rwanda reading from his Bible and pleading for peace before a shocking massacre took place. It is a portrait of and bravery and faith in the face of escalating violence.
Excerpts from Gittoes' diaries accompany the works, recounting each witnessed event in the artist's dramatic style. Recalling the moment that inspired The Preacher, Gittoes says, "The Preacher was aware of me – he was not going to plead for help he knew I could not give (my blue UN helmet meant little anymore, to this congregation)."
Other works take a more speculative approach to the interior lives of soldiers. One such artwork represents the flash of guilt experienced by a Corporal as he realises he has led his troops into an ambush, while another imagines a dialogue between fallen comrades as they make their ascent to the spirit world.
The exhibition incorporates notes and sketches from the artist's visual diaries, as well as his photos and films. A previously unseen interview gives more insight into his experiences and artistic process.
The Realism of War is not the artist's first encounter with the Riverina region. As well as having occupied battlezones around the world with troops who trained in Kapooka, Gittoes has an ancestral connection to the area. His great-grandfather and grandfather – both named George – hailed from the region.
His great-uncle Reginald, of Cootamundra, is listed in an accompanying display that profiles the experiences of local soldiers during World War 1. Reginald suffered the scourge of scabies, a common affliction experienced in the trenches, and was later wounded by gunfire. Like soldiers then and now, memories of the battlefield accompanied him home and affected his life for years to come.
The Realism of War is the third exhibition curated by Museum of the Riverina to commemorate the Centenary of ANZAC. He Belonged to Wagga: Our ANZAC Story 1914-1919 and Worth Their Weight in Gold: Wagga Women in WWI are both on exhibition at the Museum's Botanic Gardens Site.
The Realism of War: Works of Humanity by George Gittoes is on exhibition until 18 November 2018 at Museum of the Riverina's Historic Council Chambers site.