Gregory Williams
Category: Sporting Hall of Fame
Sport: Sailing
Year Inducted: 2006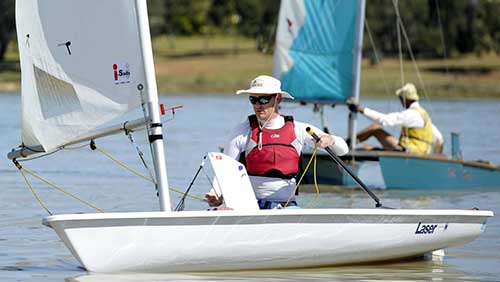 ---
"Greg had no worries with the moderate to light conditions as he won four of the five races in the series to claim the title." The Daily Advertiser, 27 June 2016
Greg was born in Wagga Wagga, and was introduced to sailing by his father Garry, who is also an inductee of the Sporting Hall of Fame.
Greg held the title of Junior National Champion three times – at Batemans Bay, NSW (1998), Sorrento, Victoria (1999) and Sandy Bay, Tasmania (2000).
He represented Australia in the 2001 International Paper Tiger Titles in Wellington, New Zealand, after gaining selection from the National Titles in 2000 – 2001. Greg finished a creditable 15th in his first international competition in very trying conditions. Since this time, he has competed in senior titles in Adelaide, Victoria, Queensland, New Zealand, and on Lake Illawarra and at Eden.
Greg built his later boats as well as working with sail makers to refine the sails that he uses in competitions today.
Greg has served his sport well, not only on the water, but in the capacity of National President of Paper Tigers (2008 – 2010), International President (2009) and International Vice-President (2001).
In January 2016, Greg claimed back-to-back state championship wins at Koonawarra Bay Sailing Club at Lake Illawarra aboard 'Shadow Boxing', winning four of the five races in the series. This was Greg's fifth state title since 2006. Making the victory even sweeter was his father Garry's result of second, giving the father and son duo the family quinella.