Garry Williams
Category: Sporting Hall of Fame
Sport: Sailing
Year Inducted: 2006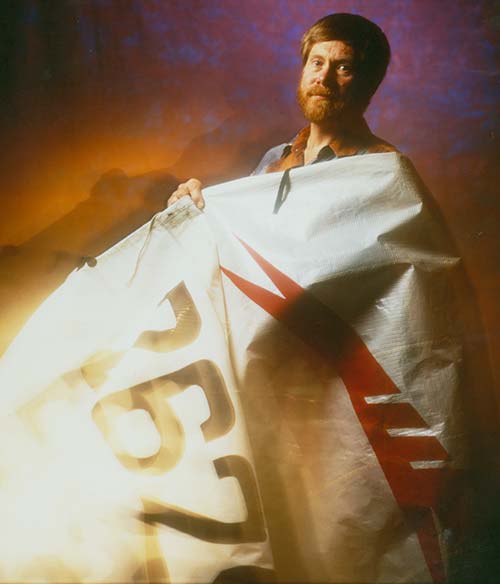 ---
"There are few athletes who get to win a State or National title but for a local sailor he has claimed his 20th NSW title - a rare achievement in any sport." ABC Riverina, 4 February 2008
Garry was born in Sydney on 22 December 1950, and moved to Wagga Wagga with his family in 1956. He attended Turvey Park Public and Wagga Wagga High schools, then Wagga TAFE.
Garry's sailing career began as a junior member of the Wagga Wagga Boat Club when he was just a teenager. He began sailing club Sabots and moved on to VJs when his parents purchased one for him and his brother Philip. Together, they became a successful team in their VJ called 'Beatle'. Later, they upgraded to a newer boat called 'Intrigue', in which they won a number of club and Riverina championships.
In the late 1960s and early 1970s Garry sailed a Northbridge Senior with various crew, and was Riverina Champion in 1967, 1970 and 1971, and was runner-up for a State Title. For a short period, he sailed VSs with a crew of two. That became too difficult to arrange, and so by 1974 he purchased a Quickcat (a one man 16 foot plywood catamaran).
For the 1977 – 1978 season Garry purchased a more competitive Quickcat called 'Solo 2', for which his father provided a new sail. During this season, the Quickcat National Trials were dominated by members of the Wagga Wagga Boat Club. Garry Williams with 'Solo 2' took first place; Peter Wild on 'Felix' came second and Ewan McArthur sailing 'Twynam' came third.
In 1979 Garry turned to Paper Tigers, another type of one man catamaran. This class appealed to him as these vessels are smaller, lighter and faster than the heavier Cunningham-designed Quickcat. Paper Tigers also raced internationally. His first Paper Tiger was a second hand boat called 'Snagglepuss'.
In 1982 four club members – Danny Fitzgerald, Garry Williams, George Williams and Christ Charters – built four new boats. Garry named his boat 'Characin'. In 1990 Garry again built a new boat with club members Danny Fitzgerald and Ewan McArthur. The new boat was called 'Characin 2'.
In 1998 Garry built his third Paper Tiger with another group comprising Kerry Spalding, Cameron Fitzgerald and his youngest son, Greg. Retaining the theme, Garry named this boat 'Characin 3'.
Back in 1980, Garry was introduced to a sail maker called Ian Marcovitch, who traded as Redhead Sails, and they formed a strong sailing relationship. Ian had excellent sail making design knowledge, and was able to select the best cloths as well as having the skill to accurately build the sails. Garry became his test pilot, providing the necessary 'on water' analysis and feedback.
It is this team that has powered Garry's boats since 1982, and Ian now works with both Garry and his son Greg, supplying them with sails. Ian himself has also been a keen competitor in the Paper Tiger class, as he sailed them in the 1980s and returned to competition in 2004.
Garry has been NSW State Champion 20 times since 1979, and runner-up once. He was National Champion in 1984, 1985, 1988, came second in 1980, 1986, 1987 and 1989 and third in 1990 and 2000. He was a National Veteran Champion in 2009.
From 1983 – 1988 Garry was International Champion and came third in 1992. Although he won from 1983 to 1988, he only won the International titles four times, as it was not contested in 1984 or 1987.
In 2008 Garry won his 20th State Catamaran Championship, having dominated the NSW Paper Tiger Catamarans for more than two decades.
In December 2009 Garry finished building his fourth Paper Tiger, a sister boat to his son Greg's that was launched in December 2007.
Garry has represented Wagga Wagga and Australia as part of the Australian International Team fourteen times, and has declined the offer on six other occasions. At the 2009 international event he did not make the team, but sailed as an invitee.
In 2012, at the age of 61, Garry competed at the National Championships in Lake Macquarie. Graded as a 'B' grade veteran boat, Garry used the light wind conditions to show his skill and ability to take out the overall National Title, and book himself a place in the National Team to compete against New Zealand in 2012.
Garry still sails in the class today as a veteran, and is the Chairman of the Wagga Wagga Sailing Club.