Eric Weissel
Category: Sporting Hall of Fame
Sport: Rugby League
Year Inducted: 1996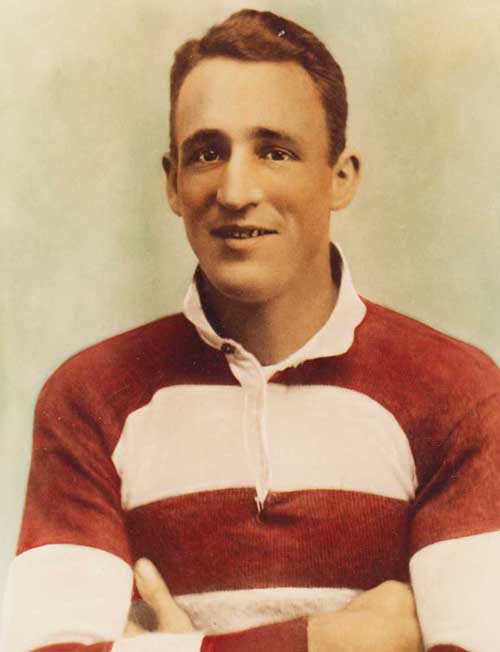 ---
"ALL ROUND SPORT
Weissel is a first-class cricketer, being a prolific run-getter and has represented the South in Country Week. This fine young sportsman will soon be seen in action under Rugby League rules, at the Wagga Cricket Ground tomorrow." The Daily Advertiser, 27 August 1927
Eric Weissel was born in Cootamundra on 16 February 1903, and played his entire football career in his home area of the Riverina, rejecting offers from Sydney and English clubs, choosing instead to stay in the district he called home.
During his 18 year career he played with five different clubs: Cootamundra, Temora, Barmedman, Narrandera and Wagga Wagga. While at Cootamundra, he was captain for the two years that the club retained the regional Maher Cup with an unbeaten record.
Eric rose to the top when, in 1928, after playing for NSW, he was selected to play two Test matches against England. He toured Great Britain with the Kangaroos in 1929 – 1930, playing in all three Tests and 17 tour matches. He topped the tour scoring tally with 127 points from five tries and 56 goals.
He played three Tests in the 1932 Domestic Ashes Series against Great Britain, including the brutal 'Battle of Brisbane' Test where a battered and bruised Australian team lost the fight to a thuggish English side, but won the match 15-6.
Eric's international career ended that same year. In total, he had played eight Tests for Australia.
Since 1976 the Eric Weissel Medal has been awarded to the best and fairest player of the season in the Riverina regional country rugby league competition.
In February 2008, Eric was named in the list of Australia's 100 Greatest Players (1908 – 2007) which was commissioned by the NRL and ARL to commemorate the code's centenary year in Australia.
The premier rugby league venue in Wagga Wagga, Eric Weissel Oval, a 10,000 seat stadium was named in his honour in 1959. Sadly, the grounds were sold for redevelopment in 2009, and Eric's namesake was demolished at 11:15 a.m. on the morning of Tuesday 12 May 2015, when 'decades worth of Wagga rugby league history came crashing to the ground.'