Melanie Wells (nee Twitt)
Category: Sporting Hall of Fame
Sport: Hockey
Year Inducted: 1998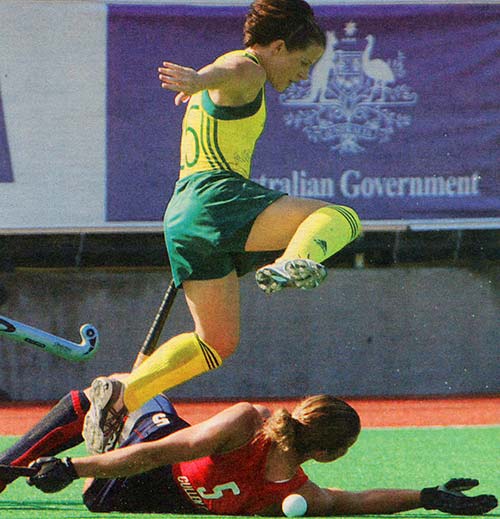 ---
"If the 28-year-old midfielder – one of the young national side's most important and experienced players – does decide this year will be her last, it will add even more incentive for her to win gold in Melbourne." The Sydney Morning Herald, 5 March 2006
Born in Wagga Wagga on 7 October 1977, Melanie represented NSW in the U16, U18, U21 and in the Open Team.
In 1996, a year after she was selected as a member for the Australian U18 team, Melanie was selected for the Australian Senior Youth Team, and had the opportunity to tour Italy, Wales and Scotland, and play in the 4 Test Series against Korea.
In 1997, again as a member of the Australian Senior Youth Team, Melanie competed at the Junior World Cup. She also toured South Africa, and competed against China and New Zealand on home soil.
Melanie made her senior international debut in 1998, and in her career of over 200 games of hockey for Australia, has competed in two World Cups, two Commonwealth Games and two Olympic Games – Athens in 2004 and Beijing in 2008.
One of the highlights of Melanie's career was winning gold at the 2006 Melbourne Commonwealth Games, an event which also saw Melanie take on the role of co-Captain of the Hockeyroos.
Melanie was named International Player of the Year from 2002 to 2004. She announced her retirement following the Beijing Olympic Games. In 2007 she married men's hockey gold medallist and Captain of the Kookaburras, Matthew Wells, whom she first met at the 1997 Junior World Cup.