Arthur Tonkin
Category: Sporting Hall of Fame
Sport: Rugby Union
Year Inducted: 1996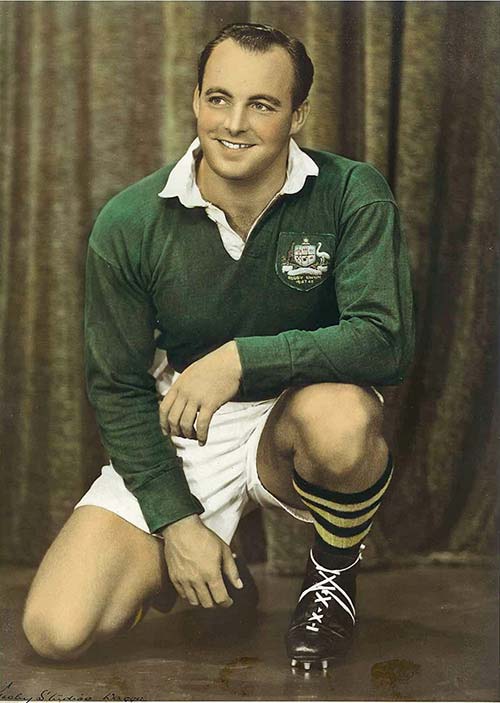 ---
"Arthur was squat and solid, a perfect sprinter's build. He rarely drank, only an occasional beer, and was moderate in all his habits. More religious than most, he would often attend church daily, and twice on Sundays. He was also a meticulous dresser, his portmanteau on tour more fully stocked than any other of the players. A good-looking man with a fine presence, he could be deemed dapper, as not a hair would be out of place." Official online home of the Wallabies, historical Wallaby profile
Arthur was born in Wagga Wagga on 19 October 1922. Although Arthur's father was one of the pioneers of NSW Country Rugby League, he made no attempt to influence his children in the sports they chose to pursue. Arthur left Wagga Christian Brothers' to attend St. Joseph's College (Hunters Hill), and was coached by legendary coach of the 1930s Brother Henry, and his love for rugby union was confirmed. Arthur remained at Joeys until he was twenty-one, and while there, he won the 1942 GPS Sprint championships.
A powerfully built sprinter, Arthur added menace to every team he played with because of his scoring potential. He was an even time runner with rare acceleration, and given any space, he usually could get around his opposing wingers.
Arthur spent four years in the Army during World War II, and was the Army sprint champion throughout his service. He joined the Gordon Club after his discharge, and played the first of six matches for NSW in 1947. He missed a place in the Test against New Zealand that season, but became one of the spearheads of Australia's attack in Britain when champion Manly winger Charlie Eastes fractured his wrist.
So Arthur became one of the stars of the 1947 - 1948 Wallabies' highly successful world tour during which he played in all five Tests against the British Lions. The tour encompassed Ceylon, Britain, Ireland, France and the United States and included five Tests and 36 minor tour matches. It was the first such tour in twenty years, since that of the 1927 – 1928 Waratahs, as the 1939 Wallaby tour had been thwarted by World War II.
The British Rugby writer C.B. Jones recounted a passage of play by Arthur which lead to a decisive try in the Wallabies 11-8 win over the powerful Swansea side: "Choosing his opponent well, Tonkin made his peculiarly characteristic inward dash from the flank, shook off the tackle that might have killed the move, was away with accelerated pace and the Swansea defense was in a trice unhinged. The extra man was made and the ball flashed along for the other winger Kevin Bourke, to hold the pass and plant the ball down unchallenged, behind the posts."
Apart from his try scoring, Arthur kicked some useful goals during the tour, including two penalties against France in Paris. Leg injuries interfered with his career after that tour, but he did play in one further Test against the British Lions in Sydney in 1950.
The 1947 - 1948 tour was a marathon lasting nine months. The Wallabies played 41 games (30 in the UK) won 35 and lost 6. Arthur played in 28 of those games. He scored tries against Scotland and Ireland.
The 1950 Test against the Lions provided one of the most memorable occasions of Arthur's life. He married his wife Doreen in the morning, then took to the field to play in front of his new wife and the wedding guests who were hosted by members of the Sydney Cricket Ground (SCG)!
While some players show extreme nerves before big games, Arthur was reputed to enjoy a nap on the change room benches before running onto play. Arthur's biggest influences were his mother (Arthur's father passed away when he was 8 years old), the legendary Brother Henry of St Joseph's College and Slab Allan his coach at the Gordon Rugby Club. Arthur's favourite quote was "family comes first" and having 11 children it's no wonder.
After his playing days, Arthur had a long and successful coaching career. From 1951 – 1964, while living and teaching in Leeton, he coached Leeton High school 1st X111 and Leeton Greenies RLFC. In 1965 - 1966 he was lecturing at the Wagga Wagga Teachers' College and coached their 1st XV (known as the Reddies). He went onto become a lecturer in physical education at Armidale Teachers' College and coach of their 1st XV for many years. He retired from Armidale in1982.
Arthur passed away in 1992. In 2005 a Posthumous Shield was named after Arthur and is played in his honour between Northern NSW Zone 1st XVs - New England / Mid North Coast.