Gilbert 'Tig' Thomas
Category: Sporting Hall of Fame
Sport: Sailing
Year Inducted: 2006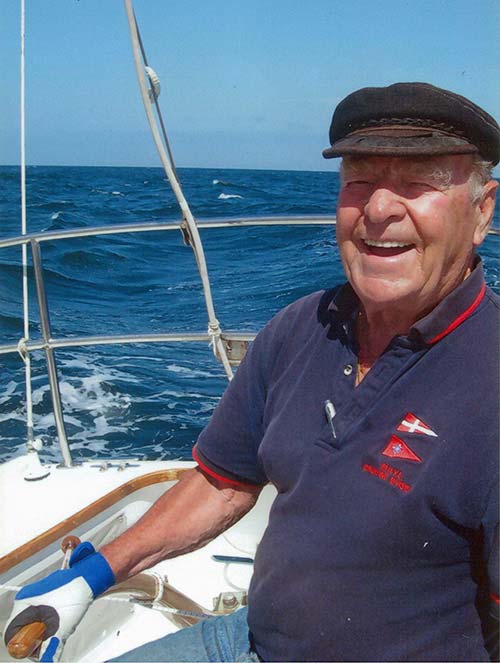 ---
"From Wagga to the water" Australasian Paint & Panel, 2 April 2007
Gilbert 'Tig' Thomas was born in Wagga Wagga on 7 July 1926, and he attended Gurwood Street Primary and Wagga Wagga High schools.
Young Tig, a member of the Wagga Wagga Swimming and Diving Club, commenced sailing in 1949. A foundation member of the Wagga Wagga Boat Club, Tig served in various capacities including Treasurer, Vice Commodore, Secretary and Commodore (a position he held twice). Tig was given Life Membership of the Club in 1963.
In February 1954 Tig competed in the Wagga Boat Club's Anniversary Regatta held on Lake Albert. He won both heats and the final in the Sheekey's all class sailing handicap, in his 12 square metre 'Stormy Weather'.
In Wagga Wagga, he worked as an accountant and partner with the firm GP Turner and Adams (now known as Adams Keneally White). During this time, Tig was also active in Wagga Wagga Apex, where he held the position of president for a term. In 1963 Tig moved from Wagga Wagga with his family and, after initially living in Killara, shifted to Mosman where he has remained ever since.
Tig joined the Middle Harbour Yacht Club in 1966 and sailed Endeavour 24s until 1971. He won the 1970 and 1971 NSW State Championships sailing 'Allonville' and 'Allonville Too' respectively.
The keen sailor entered the 1971 Sydney to Hobart Yacht Race, sailing 'Plum Crazy' and won Divisions 2 and 2B. The Canberra Times of 19 December 1972 described the yacht 'Plum Crazy' as a 'most consistent yacht' which handled 'well in light and strong winds'. This was the start of an illustrious record with continued successes in ocean and inshore races against some of Australia's best.
Tig won the inaugural South Solitary Island Race in 1972 and again in 1973. He also won the first International Half Ton competition (the Dunhill Series), conducted by the Royal Sydney Yacht Squadron in 1972 again sailing 'Plum Crazy'.
In August 1973 Tig represented Australia at the World Half Ton Cup in Denmark, as the sole accredited Australian representative, sailing his own yacht 'Plum Crazy'. In 1974 he once again represented Australia at this race, this time in La Rochelle, France, sailing a chartered yacht 'Creizic'.
Tig and 'Plum Crazy' again entered the Sydney to Hobart in 1975, where he created a record for the fastest yacht under 9.5m, a record that held for the next 27 years.
The greatest challenge of Tig's sporting career was surviving 70 knot winds in the 1975 Sydney to Hobart Race with a crew of five. Another was flying a single engine aircraft (Beech 36) from Bankstown (Sydney) to Blackbush (London).
In January – February 2009, 84 year old Tig sailed his old faithful 'Plum Crazy' to Hobart for the Wooden Boat Festival. After selling her that October, he purchased another yacht 'Highland Ghost' and sailed her back from Geelong to Sydney.
Tig, a Middle Harbour Yacht Club Life Member, continued to sail regularly, mostly as a cruising yachtie. He passed away on Wednesday 30 August 2017, aged 91 years. A Memorial Service was held at the Middle Harbour Yacht Club on 16 October 2017.