Mark Taylor
Category: Sporting Hall of Fame
Sport: Cricket
Year Inducted: 1996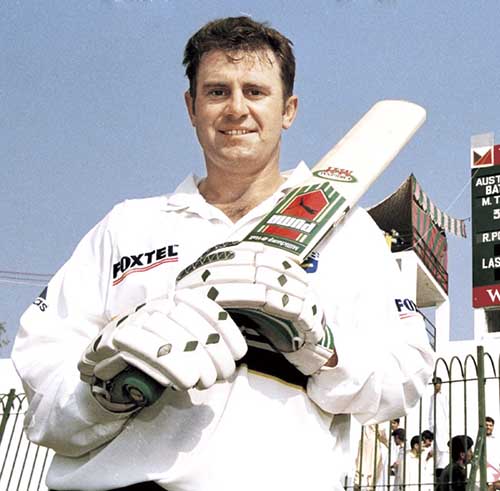 ---
"Mark Taylor is seen as one of the most well-rounded skippers in Australian history. His calmness on the field, mixed with his batting ability, his relationship with the board, as well as his general demeanour, made him a terrific leader." Cricket.com.au website
Mark Taylor, nicknamed 'Tubby' or 'Tub's, was born in Leeton on 27 October 1964, but moved to Wagga Wagga in 1972 with his family. As Mark spent what he considers his formative years in Wagga Wagga, he sees it as his hometown. Living in Bolton Street, Mark attended South Wagga Public School, where he was School Captain in 1976. His family then moved to Fraser Street, and in 1977, Mark enrolled at Mount Austin High School.
From 1975 he played cricket at South Wagga Public School before joining Lake Albert Cricket Club, where he continued to play throughout high school. At Lake Albert, he blossomed under the guidance of junior club coach and cricket fanatic Bernie O'Conner. His first 100 came on an eventful, cold and wet Saturday in November 1978, when in his morning junior game (coincidentally umpired by a young Geoff Lawson), Mark made 116 before being called up as a late replacement 3rd grade. Both teams Mark played in that day won.
Mark was an above average sportsman and as a junior, took part in a number of sports. Two sports he showed a liking for were soccer and Australian Rules. Like most youngsters, he was always looking for a backyard game in which he could use and develop his sporting skills. At high school, he was a quiet achiever who involved himself in school sports. He excelled in soccer and was a noted goal scorer. He also performed well at cricket and was selected to represent the Year 7 Cricket Team to play the Western Area.
Around town, Mark set about using his time and skills to benefit the local clubs. As an Australian Rules player, he was considered to not only have a good football brain, but the skill to match it.
In 1979 Mark joined the Northern Districts Cricket Club in Sydney. While playing there, he obtained a degree in Surveying from the University of NSW.
Mark made his debut for NSW in 1985 against Tasmania, and his Test debut in 1989 against the West Indies at the Sydney Cricket Ground. He partnered Michael Slater to form one of Australia's most successful opening pairs in recent history.
In 1992 Mark served his apprenticeship under Captain Allan Border, when he was made Vice-Captain of the Australian Cricket Team. When Allan retired in May 1994, Mark was appointed the 39th Australian Captain, which gave him plenty of time to prepare for the upcoming One Day Tests against Sri Lanka and then the three Tests to be played in Pakistan later that year. These would be followed by a One Day Triangular Series involving Pakistan, South Africa and Australia.
It was now Mark's turn to put his own stamp on the side. He intended to stamp out sledging while still maintaining the Australian's on-field aggression. Mark saw himself as a good communicator and, though without flair, he always worked hard and was onside with his peers.
In 1994 Mark led his team to success against the West Indies in the Caribbean, and the Australians won the Sir Frank Worrell Trophy for the first time in 23 years. At the time he was appointed Captain, Mark had played 54 Tests and had a batting average of 46.98. Following his selection, he and Michael Slater had an outstanding tour of England. The pair piled on the runs, setting up the Ashes win that brought fame to Wagga Wagga.
These victories meant that the Australian team could claim to be the best cricket team in the world.
Mark was the 6th Australian to score over 6,000 runs in Test cricket, after (in order of runs scored): Allan Border, David Boon, Greg Chappell, Don Bradman and Neil Harvey. After the 1997 Ashes Tour, Mark had scored 6,116 runs and had taken 123 catches. On his return from this tour, PM John Howard said 'All my life I really have regarded the captain of the Australian cricket team as the absolute pinnacle of sporting achievement - and really the pinnacle, almost of human achievement in Australia. It is a tremendous personal pleasure to be able to salute someone with so many Australian characteristics. Mark you have ability, you have superb professionalism, you have enormous grit, you have capacity to fight back from adversity, you are a great family man and you are a real inspiration to sports men and women all around this country. Can I say, on behalf of a proud and grateful nation, that you have occupied the greatest sporting spot this country can offer anybody with decency and grace, with professionalism and great skill'.
His final Test match was at the Sydney Cricket Ground on 5 January 1999 against England. In his career, he had played 104 Tests and made 19 Centuries, the largest of which was 334 runs (not out) against Pakistan at Peshawar in 1998. This equalled the great Sir Donald Bradman's Australian Test batting record.
Mark's 7525 Test runs at 43.49 is a record among Australian batsmen, only second to Allan Border. His 157 Test catches beat Border's previous world record for a non-wicketkeeper by one.
Mark captained Australia in 50 Tests, winning 26, losing 13 and drawing 11. He lost only three series as Captain (Pakistan 1994 – 1995, India 1996 – 1997 and 1997 – 1998). In International One Day Cricket, Mark also had a strong record. He played in 113 matches, 67 as Captain, with 36 wins, 30 losses and 1 tie. He scored 3514 runs, with one Century and 28 innings of 50.
On 2 February 1999 Australian Captain Mark Taylor announced his retirement from International cricket and was named Australian of the Year.
In 2000 Mark was awarded an Australian Sports Medal and the following year, a Centenary Medal for his services to the community and cricket.
In 2003 he was appointed an Officer in the General Division of the Order of Australia (AO) for his outstanding contribution to cricket and support of organisations involved in fundraising for cancer research. That same year he was also inducted into Sport Australia's Hall of Fame.
Like many inductees, Mark made the transition from sports to media. He is a commentator for Channel Nine, appears on The Cricket Show with Mark Slater and is a spokesman for Fujitsu Air Conditioners. In October 2015, The Primary Club of Australia announced that Mark Taylor had accepted the role of Twelfth Man and Patron following the passing of their former Patron, Richie Benaud OBE. Mark also took on the role of Director of Cricket Australia.