Bob Sunderland
Category: Local Legend
Sport: Motorcycle racing
Year Inducted: 2012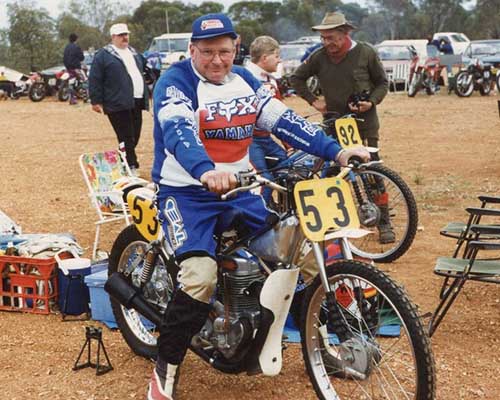 ---
"When I actually clapped my eyes on Bob Sunderland's hybrid JAP/BSA I reckoned that I'd already seen 'Bike of the Rally.' Ray Birchall, Old Bike Australasia, 1 January 2015
Bob was born in a tent at Bairnsdale, where his father was Manager of a caravan park, on New Year's Eve 1939. The family moved to a farm they owned at Temora before he started school.
His father was a competing 'speedway slider' dirt bike rider. It was he who taught Bob how to ride on the dirt track that was on their farm. He worked on the farm for a while before he went to Melbourne to do a panel beating apprenticeship as he couldn't afford to buy his father out and he didn't enjoy school.
Bob started racing speedway when he was 20, travelling to Wollongong fortnightly in Open Competition. When he was 21, he got sick of city life and moved back to Wagga Wagga to open his own panel beating business. After about six years, Bob had to change his business, after getting cyanide poisoning from the work, which resulted in him losing a lung. He therefore opened a motorcycle repair shop, B&A Motors, before moving into retail, when he became the local agent to Yamaha, Kawasaki and Ducati bikes.
He raced successfully locally in short track competition until he retired in 1975. Bob also sponsored riders, some to international level, including Kevin Condron, Lloyd Richards, Glenn McCarroll, Michael Stormonth, Scott Wood and Shane Coombes.
In 1982, 1983 and 1985 Bob was awarded Clubman of the Year and was given Life Membership of the Wagga Wagga Motorcycle Sports Club in 1983. In the late 1980s Bob had a near-fatal accident on the track at Bathurst, when he was hit from behind by another bike. On impact, Bob was catapulted over his handlebars, while the bike was travelling backwards at high speed. Aged in his late fifties at the time, Bob died twice during the night in hospital as a result of the crash, when his one remaining lung was pierced by a rib and due to a lack of oxygen, his body tried to shut down.
Bob resumed racing in 1991/92 in "Classics", his race no. 53 (his age when he got the bike). Since resuming racing he has been awarded 21 Australian Championship medals and trophies - 7 firsts, 6 second and 7 thirds. In 2016 Bob still calls Wagga Wagga home. He still holds a motorbike license, but has not raced competitively for a couple of years.