Arthur Summons
Category: Sporting Hall of Fame
Sport: Rugby Union & Rugby League
Year Inducted: 1998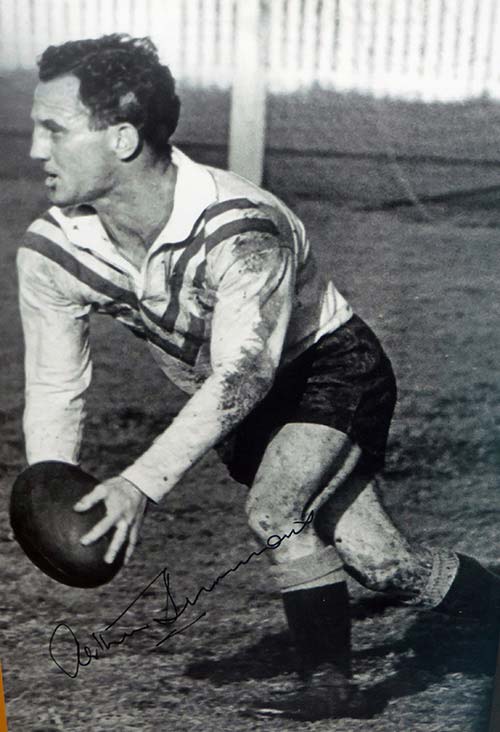 ---
"Arthur Summons has become one of Union's best known and capableplayers." The Biz, 11 September 1957
Arthur was born on 13 December 1935 in Paddington, NSW,and arrived in Wagga Wagga in 1964 following stellar international careers inboth rugby union and rugby league.
Rugby Union
Arthur first played rugby union football for HomebushHigh School (Sydney) and represented Combined High Schools (CHS) in 1951 and1952. In 1954 he joined the GordonRugby Union Club.
Arthur was a smart, resourceful inside back that played some splendid rugby for Australia in the late1950s.
He made his debut for NSW in 1956, but had a temporarysetback through injury in the game against the Springboks. He recovered to play in the Wallabytrials, and was one of the few successes of their 1957 – 1958 tour of Britain,France and America. Arthurdeveloped a fine understanding with halfback Des Connor on this tour, and theybecame Australia's main hope of scoring in the Tests against Wales, Ireland,England and Scotland. However, aleg injury sustained by Arthur in the Test against Scotland forced him out forthe rest of the tour.
Arthur played fly-half in ten rugby union Test matchesfor the Wallabies between 1956 and 1960, but could also play the inside centreposition.
Early in 1958 Arthur played for NSW and showed good formagainst the NZ Maoris. The New ZealandRugby Almanac named Arthur one of its Players of the Year for his displays onAustralia's tour of New Zealand.
He switched to playing rugby league after the 1959 Testagainst the British Lions.
Rugby League
In 1960 Arthur joined rugby league's Western SuburbsMagpies. His defection from unionto league was a big loss to Rugby as he was a wonderfully-unselfish footballerwho always gave a whole-hearted effort. His success as Captain-Coach of the Australian League team was nosurprise to his former rugby mates.
The following year he was selected for NSW and also inthe Australian team for its tour of New Zealand. He became Australia's 26th dual code rugbyinternational when he made his debut in Auckland in July 1961.
Arthur went on to play a total of nine rugby leagueTests for Australia, as halfback and five-eighth, and won five out of five ofhis matches as Captain of the all-conquering 1963 Kangaroos.
At club level, Arthur played in each of the Magpies'three consecutive Grand Final losses to St. George in 1961, 1962 and 1963 – thefinal one as Captain opposite Norm Provan.
The 1963 NSWRFL season saw the final two teams – St.George and Western Suburbs – compete for the JJ Giltinan Shield and WD&HOWills Cup, and culminated in a replay of the previous two years' GrandFinals. It is this final game thatboth Arthur and Norm have been commemorated for.
A record crowd of 69,806 turned out for the Grand Final,to view the game which was, from the opening whistle, a gruelling affair. Heavy rain meant that the wet SCG pitchquickly turned into a quagmire, with the mud-covered players unrecognisable.
At the end of the match, rival Captains Norm Provan andArthur Summons embraced, and the moment was captured by photographer JohnO'Gready. This award winningphotograph has become known as 'The Gladiators', and since it was firstpublished, has been appreciated by rugby league fans as capturing an essence ofthe game wherein a little man can fairly compete against the bigger man, andwhere sporting respect and camaraderie follow an epic struggle.
Since 1982 a bronze replica of the Provan and Summonsembrace has adorned the various incarnations of the Australian Rugby LeaguePremiership trophy. In 2013, onthe eve of the game that marked 50 years of 'The Gladiators', the NationalRugby League and Telstra announced that Rugby League's most cherished prize(the Grand Final trophy) was being renamed the Provan-Summons Trophy.
Arthur had tremendous success in international league,and figured in numerous gutsy performances for the Magpies. His best years in rugby league were1961 and 1962, when he was made Captain of Australia for the third Test againstGreat Britain. It was the onlyTest Australia won, and Arthur was awarded the Claude Corbett Trophy for thewinning third Test Captain.
1963 sawArthur appointed as Captain Coach of the Australian Kangaroo's to tour GreatBritain and France. This test side was the first side to win the Ashes inEngland and France.
Wagga Waggacareer
In 1964Arthur was lured to Wagga Wagga to take up the role of Secretary Manager of theWagga Wagga Leagues Club. He wasalso Captain-Coach of the Wagga Magpies for five years from 1965 to 1969. His impact on the local game was immeasurable. Under his leadership the Magpiesenjoyed five consecutive Grand Final appearances and three Premierships.
Afterfinishing with the Leagues Club, Arthur became the proprietor of the TollandHotel in Wagga Wagga. He has nowretired, but still lives in Wagga Wagga, where he enjoys life at a moreleisurely pace.
In 2008 Arthur was named one of rugby league's 100Greatest Players. Today, he is oneof Wagga Wagga's most recognisable faces, and most valuable sporting treasures.