Michael Stormonth
Category: Sporting Hall of Fame
Sport: Motorcycle racing
Year Inducted: 1998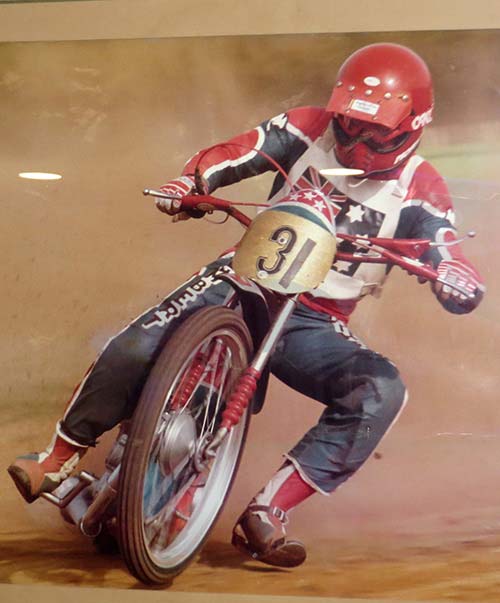 ---
"Many great riders have come from the club…" Wagga Motorcycle Club website
Michael, known as 'Mick', was born in Wagga Wagga on 22 April 1963. He attended Ashmont Primary and Mt. Austin High schools, and started riding motorbikes when he was twelve.
Mick's father was in the painting business, and Michael entered the company as an apprentice when he left school. His other career was riding motorbikes. He learned to ride in the bush surrounding Ashmont and with the Wagga Wagga Motorcycle Club, began riding as a junior. This required a lot of travelling, with some of the closer tracks being at West Wyalong, Canberra and across the border in Victoria.
The early 1980s were good years for Mick and he compiled a speedway record of which he could be proud. In 1983 he won the King of the Dirt Championships. The following year he won the King of the Flat Track and the Riverina King of the Dirt. In 1985 he once again won King of the Flat Track. He was the NSW Big Track Champion in 1981, and in 1982, he won the NSW Team Championship.
In 1983 Mick won the Queensland Small Track Championship and in 1984, captained NSW in the Queensland Interstate Series. He represented Australia against England in 1982 and 1983 and in 1986 was in England again, to compete in the Grass Track Test Series. That same year, he became the first Australian to ever qualify for the European Grass Track Championship.
It was not long before Mick gained his open licence, which allowed him to ride in 'C' Grade, before progressing quickly with promotion to 'B' Grade. Three months later, in May 1981, he made the 'A' Grade ranks. Mick was one of many local riders to be sponsored by B&A Motors of Wagga Wagga, the company owned by fellow Sporting Hall of Fame inductee Bob Sunderland.
He was a consistent rider, who frequently gained places and finished races when others failed. The Wangaratta 500cc final was an exciting event, with the terrible Wagga triplets, Kevin Condron, Lloyd Richards and Michael racing over six laps. The lead changed hands every lap, and all three finished with only inches between them. This was a typical race scenario, and on this occasion, Mick was the unlucky rider who finished third. This was his first event on a 500cc bike. Together, the group won the NSW State Titles.
The highlight of Mick's career was riding for Australia, first in 1983, then on a number of occasions over the following years. The 1982 Test Series was Mick's first and he rode in all three Test matches, and contributing to Australia's 3-0 victory.
In 1983 Wagga Wagga hosted a Test with the two past Mount Austin High School students, Lloyd Richards and Mick, qualifying to compete. Tests were also held at Wallsend, Kingaroy, Taree, Newcastle, Nepean, Tamworth and Raymond Terrace. Australia dominated to win the Series 7-1. Mick rode at seven of the meetings.
One English team member at this meet, Steven Schofield, whetted Mick's appetite to compete overseas. Mick spent nine months in England competing in grass circuit meetings, one Test match ride and a number of excursions to participate in Continental races. The rides in Europe were a way of not infringing his English visa or work permit.
In Europe, Mick rode in the three Test series against England. The track surface in Kent was grass, and the Australians had very little experience on this type of surface, especially when, just before Test match 1, water was applied to the racing surface. In one of the match races, all but Michael fell, which left him Australia's only finisher and point scorer. His total points were 32, half of Australia's total score, and the best from either team. However, England's win was an easy one.
Mick's career ended with his retirement from the speedway in 1986. In 2016 Mick still lives in Wagga Wagga with his family, and is a Life Member of the Wagga Wagga Motorcycle Club. He owns Khan Signs, a local digital printing business. He is fortunate to have had the support of his family, with his mother, Shirley, also record keeping his achievements in the form of a scrapbook.