Steve Mortimer
Category: Sporting Hall of Fame
Sport: Rugby League
Year Inducted: 1996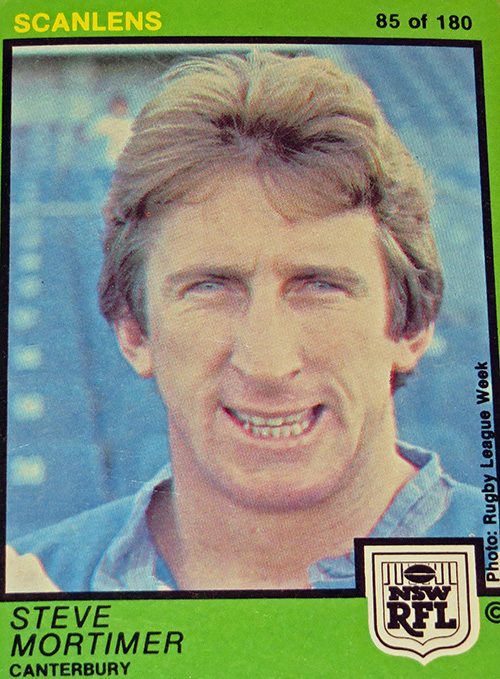 ---
"Steve's leadership and deft touches had the crowd entertained." The Canberra Times, 28 March 1983
Steve was born on 15 July 1956 in the Sydney suburb of Yagoona, in the heart of 'Bulldog' territory. He was the eldest of Ian and Elaine Mortimer's four sons, with brothers Peter, Chris and Glenn being born shortly afterwards. The Mortimer family moved to Wagga Wagga in 1961 to escape the humidity and pollution of Sydney in an attempt to help Steve's asthma, which he had suffered from since 20 months of age.
Steve attended Kooringal Primary and Mount Austin High schools.
The Mortimer brothers seemed destined to become footballers. Both their grandfather and father (who was a policeman) had played rugby league. After first living in Kooringal, the family soon moved to a house near the Leagues Club, just a stone's throw from the former home of rugby league in Wagga Wagga and the Riverina – the Eric Weissel Oval. Their Shaw Street home was also alongside the Police Citizens Youth Club where Ian, Steve's father, worked. Steve developed a close friendship with Greg Brentnall, who was like a fifth brother to the Mortimers.
Fellow Sporting Hall of Fame inductee Greg would also go onto play football for Canterbury-Bankstown, NSW and Australia.
Ian Mortimer helped establish the Kooringal Magpies Junior Rugby League Club, which started with two teams of different weights. Steve did not want special treatment from his brothers and peers because of his asthma, so, instead of using it as an excuse, he learned to adapt to the condition. He found a distance in excess of 100 metres taxing, so he worked on being quick off the mark and fast over shorter distances, taking short breaks to recover and using a puffer to control his asthma. All this dictated the style of play for which he became famous.
When Steve enrolled at Mount Austin High School in 1969, it was a new school with little or no league tradition, and he played with teams that were often soundly thrashed. With the assistance of coach Phil Papworth, Steve and his teammates set about establishing and developing a team that could hold its own in the Wagga Wagga High Schools and the Riverina Combined High Schools' University Shield knock-out competitions.
The new team won the Hardy Shield and the Riverina Championship in 1974, before representing the region in the State Championships. They also won the senior section of the Junee Rugby League knock-out, beating top league school Yanco in the final. Steve went on to trial with Southern NSW Schools, and was selected to represent NSW Schools 9 Stone team on its tour to Papua New Guinea.
In 1974, in his final year of school, Steve was awarded Mount Austin High's Sportsman of the Year award, and a Blue for Rugby League.
Fellow student and former test cricketer Geoff 'Henry' Lawson wrote a poem containing the following lines:
Mount Austin High at sports excelled,
In hockey, cricket our foes we felled.
But Rugby was our weakest sport,
Until we gained a half like 'Mort'.
Now 'Mort' and Steve and Vince and Pete,
Great Wagga High they did defeat.
But Trinity a problem bought,
Our problems solved (we still had 'Mort').
After sitting for his Higher School Certificate that same year, Steve joined the Kooringal Rugby League team, before switching to the Turvey Park Club. He remained a member of this club until he turned nineteen. The chance for representative honours came when some of the more senior players were rested during an Amco Cup game against Canterbury-Bankstown, which at the time, was a regular pre-season event in Wagga Wagga. Canterbury took an immediate interest in the young player and offered him a contract worth $500. It was not a lot, but the prospect of playing big-time football, with a home to board in and further education at Hawkesbury, was enough to take the asthmatic Steve back to the 'big smoke' of Sydney.
He would play grade football for the next thirteen years, and gain a Bachelor of Science degree along the way.
In 1976 Steve joined Canterbury-Bankstown and first represented NSW in 1977. In 1980, he played alongside his brothers Chris and Peter, in the Premiership final which was Canterbury's first Grand Final win in 38 years. Steve captained Canterbury to successive Grand Final wins in 1984 and 1985 and also became Captain of NSW, leading the Blues to their first State of Origin victory (1985).
Steve, nicknamed 'Turvey' (after Turvey Park), made a poor debut for NSW in 1977, being replaced late in the game by Tommy Raudonikis. It was another four years before he was to stake his claim as the game's premier representative half-back.
Steve made his Australian debut in 1981 and played in eight Test matches against France, New Zealand and England, enjoying thirteen years at the top level of rugby league. Training under Coach Ted Glossop, Canterbury were known as the 'entertainers', which suited Steve's style of play.
Bob McCarthy joined Canterbury at the same time as Steve, and together, they developed an effective partnership. They realised that being close to, and supporting the other player would create many attacking opportunities.
Steve played nine Test matches in his career. The first was against France, and in the low-key game, he had a dream debut, scoring a try just five minutes into the game.
A Grand Final loss in 1986 was followed by a request to leave the Bulldogs for Manly, but this was denied. Steve had a troubled season in 1988. He stood down as Captain, suffered from his asthma and then broke his arm late in the season. His final match, as a reserve in the Bulldogs' Grand Final victory, was not a fitting end to such a marvellous career, but he retired having played what was then a club record of first-grade matches and with a host of brilliant achievements to his credit.
In total, Steve played 272 games for the Bulldogs, and was a one-club man. One trick that he had as a player was always wearing the same pair of footy shorts which were specially made for him, to provide more room around his thighs, allowing for freer movement during a game.
In 2002 Steve was appointed as Chief Executive for the Bulldogs, a position he held until 2004 when he resigned. Later that year he was named in the Bulldogs' greatest ever team as part of the Club's 70th Anniversary. In 2000 Steve was awarded the Australian Sports Medal.
Since 2005 he has been a regular on Sky News as their rugby league expert. In 2008 he was named in the list of Australia's 100 Greatest Players (1908 – 2007) which was commissioned by the NRL and ARL to celebrate the code's centenary year in Australia. In 2010, in addition to his media role with Foxtel, Steve was also Director of ANZ Stadium and Canterbury Leagues Club.
After retiring, Steve set up a very successful shuffleboard business, which focused on a game popular in retirement homes. In 2015, Steve said that it was his plan to get more shuffleboards into retirement villages and aged care homes all over Australia, 'it is a table game, like lawn bowls… people in wheelchairs can play, as a matter of fact, it can be played by anyone from six to 96.' (The Sydney Morning Herald, 21 November 2015)