Peter Sterling
Category: Sporting Hall of Fame
Sport: Rugby League
Year Inducted: 1996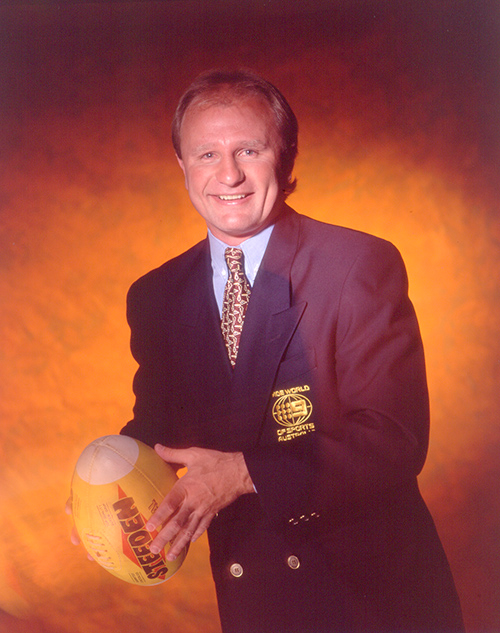 ---
"He's a class player, and when given room to move, he can make any opposition look ordinary." The Canberra Times, 31 July 1987
Peter was born on 16 June 1960 in Toowoomba, Queensland. He moved to Wagga Wagga with his family, when his father was posted to Forest Hill with the Royal Australian Air Force.
Peter, nicknamed 'Sterlo', attended Kooringal High School and played for the Wagga Wagga Kangaroo Panthers from 1974 to 1978. In his final two years of school, Peter attended Fairfield Patrician Brothers on a scholarship, and was drafted by the Parramatta Eels. The blond teenager made his first-grade debut as a stand-in fullback in the major semi-final replay against Manly that same year. He was seventeen, and had just signed a three-year deal with Parramatta worth just $9,000.
As a schoolboy, Peter showed the promise that would eventually make him a Test superstar and one of the finest halfbacks in the history of the game.
Peter was nursed along in the Eel's lower grade sides through 1979 then, in 1980, he burst upon the scene, establishing himself as the Club's number one halfback, winning the Tooth Cup superstar award. He continued his great form in 1981, making the NSW State of Origin side and playing a major role in Parramatta's march towards its first Sydney Premiership.
His form for Parramatta as it advanced to a second Premiership won him a spot in the 1982 Kangaroo touring squad. Once in Britain, he relished the conditions and displaced fellow Sporting Hall of Fame inductee Steve Mortimer from the Test halfback spot. Peter was rarely challenged for this coveted role until he finally quit the representative scene after the 1988 series against the touring Great Britain side.
Throughout his football career, Peter was a highly decorated player, whose awards included Dally M Halfback of the Year (1983, 1984, 1986, 1987), the Clive Churchill Medal (1986), Dally M Player of the Year (1987), Rugby League Weekly's Player of the Year (1986, 1987), Golden Boot Award for best player in the world (1987), the Rothmans Medal (1987, 1990) and the Ken Stephen Memorial Award (1992).
Respected English magazine Open Rugby also named him as the best halfback in the world in its annual ratings at the end of 1990, even though he had retired from Test football two years earlier.
In addition to being successful individually, in club football, Peter was a member of Parramatta's Premiership winning sides of 1981, 1982, 1983 and 1986. After the Australian League, he travelled to the northern hemisphere, where he only narrowly missed out on similar success. He was a member of the Hull Rugby League side that went down 28-24 to Wigan in the 1985 Challenge Cup Final played at Wembley Stadium.
A recurring shoulder injury ended Peter's career in 1992. When he retired, he had enjoyed two undefeated Kangaroo Tours (1982 and 1986), had played eighteen Tests against Great Britain and New Zealand and thirteen State of Origins and notched up 227 first-grade games, amassing an almost unrivalled rugby league résumé.
Since retiring from competition, Peter has become a familiar voice and face as a rugby league commentator, with his easy-going manner and sharp intelligence making his transition to media commentator easy.
In 1992 Peter's role at Channel 9 increased from commentator to that of contributor to Nine's national sports programs Wide World of Sports and Sports Sunday. The following year, with the debut of Nine's new Sunday afternoon offering The Footy Show, Peter was teamed with fellow commentator Paul 'Fatty' Vautin for the first time. The partnership took off immediately, and following a month-long trial of the program in a Thursday night primetime slot during the 1993 league finals, Peter added the hugely successful primetime version of the show to his television commitments.
In 2006 Peter was inducted into the ARL Sporting Hall of Fame.
After fourteen years, Peter said goodbye to The Footy Show, and took over from Fatty Vautin as host of The Sunday Footy Show.
Paul has been at the helm of The Sunday Footy Show since 2007. In 2008 he was joined by rugby league immortal Andrew Johns, along with two-time Premiership winner Brad Fittler in 2010.
Peter now spends his spare time relaxing with his family at their Central Coast property. He aims to eventually breed horses and play more golf.