Michael Slater
Category: Sporting Hall of Fame
Sport: Cricket
Year Inducted: 1996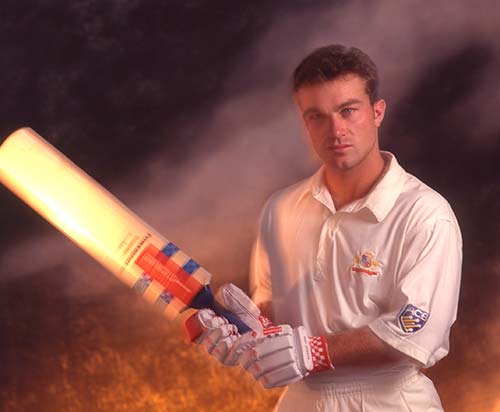 ---
"At the peak of his career, 'swashbuckler' was the word most commonly used to describe Michael Slater. A cricketer as exciting as any in his day – he tore apart opposing teams with skill, grace and something which is often lacking in the era of professional sport, a sense that he was actually having fun." Enough Rope with Andrew Denton, 15 March 2005
Born in Wagga Wagga on 21 February 1970, Michael initially played junior cricket with Lake Albert (1981), before moving to the Wagga RSL Club. In his 2005 autobiography Slats: The Michael Slater Story, Michael wrote: 'Without a doubt, one of the strongest influences on my cricket was local coach Warren Smith. From the time I was seven, Warren was my personal coach and advisor. He is one of those no-nonsense country blokes, with a strong, direct gaze, who has only to look you in the eye to convey his commitment and passion… Warren remained my personal coach until I was about eighteen. Warren and I are still close today – and there have been times in my life when he's been almost like a surrogate parent to me.'
Michael joined the Australian Cricket Academy in 1989. Following an introduction by Geoff Lawson, he joined the University of NSW Cricket Club, and played at club cricket level for this team.
Michael, nicknamed 'Slats' or 'Sybil', made his debut for NSW in 1991 – 1992 against Tasmania, and his Test debut on the England Tour in 1993. Michael partnered another Wagga Wagga star, Mark Taylor, as the best right hand/left hand opening pair.
Michael Slater was a dashing nimble-footed opening batsman, with an emotional, swashbuckling style of play, which made him a crowd favourite.
When Michael scored his eleventh Test century at the Sydney Cricket Ground, he charged off in the direction of the pavilion waving his bat above his head, and leaping in the air before planting a kiss on the Australian coat of arms.
This Test century was a controversial innings from an umpiring point of view. The decisions of umpire Taufel were a factor prompting officials to install cameras in line with the batting crease on both sides of the ground, and at both ends of the pitch.
The NSW duo of Slater and Taylor formed a very effective opening partnership for Australia. Slater spent almost a decade at the top of Test cricket. He was in splendid form during the Test Series against the West Indies, scoring three Test hundreds which enabled Australia to draw the series 2-2 and retain the Frank Worrell Trophy.
Other career highlights included his 219 against Sri Lanka in Perth (1995 – 1996), the Home Series against New Zealand (1993 – 1994) which needed him 305 runs at an average of 76.25 and the game against England (1994 – 1995) in which he scored 623 runs at 62.30.
Following Michael's last Test against England in 2001, he struggled for form and suffered a serious illness, which led to his retirement three years later. Since then, he has enjoyed a high profile and varied media career in England and Australia.
Michael is a versatile media talent. In 2005 he released his best-selling autobiography 'Slats – The Michael Slater Story'. In 2006 he joined Nine's prestigious Wide World of Sports cricket commentary team, where he cemented himself as one of the best cricket commentators in the world, working around the world for broadcasters including ESPN, BskyB, Sony and others.
In 2008 Michael signed up with Radio 2KY as co-presenter on the hugely popular The Big Sports Breakfast and further cemented his reputation in media by signing as a sports presenter on Today on Sunday.
After three seasons as a co-host on Nine Network's NRL Footy Show, Michael resigned so that he could concentrate more on his cricketing commitments with the station.