Sally Shipard
Category: Sporting Hall of Fame
Sport: Soccer
Year Inducted: 2015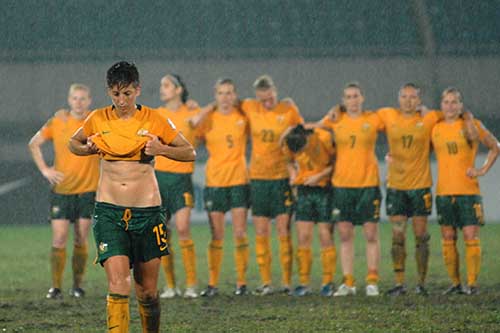 ---
"She leaves a legacy as one of Australia's greatest female footballers" The Sydney Morning Herald, 2 May 2014
Midfielder Sally Shipard is one of the most recognisable faces in women's football in Australia. At just sixteen years of age, Sally made not only her international debut, but her Olympic debut, and became a fully-fledged member of the Matildas. She made her FIFA Women's World Cup debut two years later.
Sally is Wagga Wagga's only home grown footballer to have represented Australia. Born in Tumut on 20 October 1987, Sally, her parents and her three brothers moved to Wagga Wagga when Sally was just three years old, and this is where she played all of her junior football.
In 1993, aged five, Sally joined her first club, the PCYC, where she mixed comfortably with the boys. Sally moved clubs in her early teenage years, transferring to Wagga United, where she continued playing with boys, before progressing to women's teams in 2004.
However, her skills weren't restricted to football. Sally showed enormous talent across multiple sports, and competed at state level in football and cricket in 1999 (Primary Schools Sports Association), 2003 and 2004 (Combined High Schools). Sally first represented her country when she was selected in the Australian Schoolgirls' team in 2003.
Two years later, Sally accepted an invitation from Alen Stajcic and moved to Sydney, where she attended Hills Sports High School and became a NSW Institute of Sport scholarship holder. This was a big decision for her family to make, but with the loving support of her parents and brothers, resulted in outstanding success.
Sally represented Australia at U20 level on 21 occasions, debuting early in 2004. Those performances quickly led to selection in the national women's football team, the Matildas. During the next ten years, she made 57 appearances and scored four goals.
In that decade, Sally represented Australia at the FIFA World Cup in 2007 and again in 2011. In 2010 Sally was a member of the Matildas team that won the AFC Asian Cup in China. Her crucial spot kick in the final helped Australia defeat Korea DPR on penalties.
From 2009 to 2014, Sally played 30 games for Canberra United in the W-League and scored four goals along the way. She was named the W-League Player of the Year in 2011/2012, the same year in which Canberra United won the league title.
In 2012, Sally went on loan for ten games to Bayer Leverkusen in the German Bundesliga – Germany's premier women's division. Her efforts in the second half of the German season proved vital as Leverkusen successfully avoided relegation to the second division.
Throughout her career, Sally worked as a feature writer for Football Federation Australia, and as a commentator for Fox Sports and the ABC. Sadly, Sally was forced to retire from the Matildas in 2014, due to ongoing degenerative knee issues.
Today in 2016, Sally is kept busy with her studies at the University of Canberra and with establishing the Sally Shipard Leadership Academy. The Academy's mission is to create an environment for girls and young women to flourish by inspiring them to participate in sport in a positive way and to engage with coaches, managers, teachers and related organisations to help them support girls in this process.
Sally's own public battles with injuries and an eating disorder have given her excellent insight into the challenges faced by young women in sport. Over the years Sally has also been a keen supporter of Movember and in raising awareness about mental health issues.
Sally's tips for aspiring female footballers
First and foremost the important element of any pursuit is to enjoy the darn thing! I often feel the simplicity of practice can be lost with all the technology and devices we have in place in order to 'improve'. For me it was always stripping back the layers and doing the simple things well, again and again.
Juggling would be the best example. From about 12 years of age I juggled every day. I improved because I stuck at it. It was a simple but powerful lesson - practice brings improvement. Not only did my touch improve, I gained confidence knowing that I'd grown more 'intimate' with the ball.
No matter where I was in the world, I'd always be sure to have banana, peanut butter and honey on toast for my pre-match meal, which would fall about three hours before kick-off. Potassium, fats, sugars, carbohydrates and above all else – so delectable.
People important to Sally's career
My three brothers were a great influence during my childhood and instilled a tremendous amount of competitive spirit. Without the choices my family (parents primarily) made and changes that resulted within our family dynamic (living arrangements), I would not have been provided the opportunities that kick-started so quickly my international career. I don't know if I could confidently look beyond my immediate family when contemplating my heroes. I don't have to.