Nola Scott
Category: Local Legend
Sport: Croquet
Year Inducted: 2012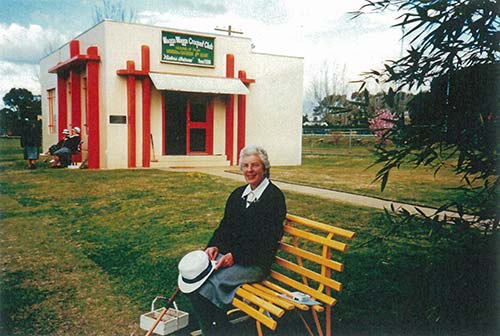 ---
"I like the quote from Rose Macaulay's 'The Towers of Trebizond': 'So they left the subject and played croquet, which is a very good game for people who are annoyed at each other, giving many opportunities for venting rancour.'" Nola Scott, The Sydney Morning Herald, Column 8, 2009
Born in Tocumwal in 1931, Nola grew up on a small farm of about 460 acres with no electricity, and a water supply that came from rainfall and underground.
Nola Scott has been a highly influential figure in the development of croquet in Wagga Wagga, and has been a member of the Wagga Wagga Croquet Club since 1984.
She is a past President, Vice President, Secretary and Club Captain and has served as a committee member for 24 of the past 27 years.
Self-taught in the game, Nola relied on books to learn the sport. As well as teaching croquet, Nola continued to learn new tactics and skills from better players at tournaments. To retain her coaching credentials, Nola needed to attend workshops, keep her first aid skills current and spend many hours playing.
Nola's later croquet career had a turning point when in 1988 Bruce Scott, a croquet coach visited Wagga Wagga and offered the croquet coaching course to anyone interested. Nola was then accredited as a level 1 coach.
Nola became a member of the Wagga Wagga Australian Veterans Games (AVG) in 1993 representing Croquet and managed several carnivals over the years. For these carnivals, she assisted with the advertising, taking entries, organising the draws, correspondence and seeking sponsors. These tasks were organised with a typewriter and photocopier until 2002, when Nola got her first computer.
In 1998 Nola volunteered to become a referee and attended workshops, studied the rule book and was tested in Canberra and successfully accredited. This then allowed her to referee at tournaments at other clubs in places like Dubbo, Yarrawonga, Albury and Wangaratta as well as at home. Refereeing credentials needed to be updated every four years, to which Nola has kept current until a few years ago (Nola still gets asked to adjudicate in the occasional game).
Nola's open- ended commitment and contribution to croquet was acknowledged in 2001 when she was awarded The Ted Ryder Shield award for contribution to sport and presented at the Australia Day ceremony in Wagga Wagga.
Nola's mother played croquet in Albury and Nola wears her mother's croquet badge on special occasions (for when luck is required!) The success of Nola's pupils and the success of the carnivals inspired Nola to keep doing what she could for the club by helping it to grow, and give to others the same sort of pleasure that she received from croquet. She loves seeing the members enjoying the fruits of their labours.
During her time as a coach in Wagga Wagga, she trained the majority of the Club's Association players, including Jim Nicholls who is a current member of the NSW and Australian Association Team and Marga Podnicks who has represented South Australia. Nola believes that Association Croquet is one of the finest of all outdoor games. It requires skill rather than strength, and tactical ability rather than quick reflexes. It is a marvellous game to watch and even better to play at any age, once you have taken the trouble to learn the basic skills required.
Nola became a Life Member of the Wagga Wagga Croquet Club in 1992.