Barney Rooke
Category: Sporting Hall of Fame
Sport: Shooting
Year Inducted: 1996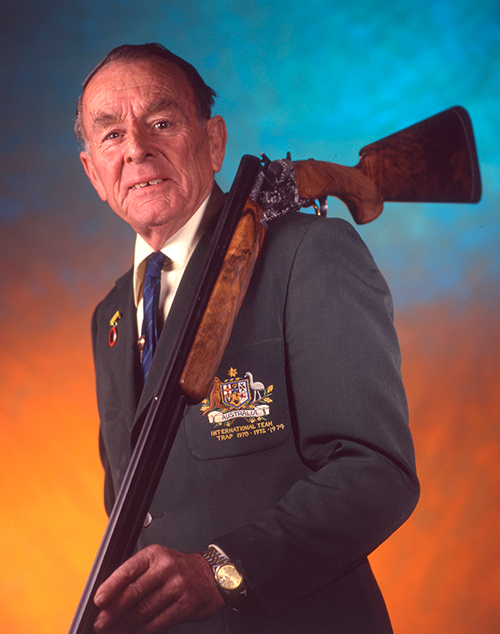 ---
"Marine and sporting goods dealer from Wagga, Barney Rooke, won the New Zealand skeet shooting title at the national skeet shooting championships today." The Canberra Times, 3 April 1974
Barney was born in Wagga Wagga in 1929, and had a long and illustrious sporting career and a rich and diverse life before passing away on 14 July 2000. He attended Gurwood Street Public School, and on leaving, had many careers including carpenter, concreter and selling caravans. Barney eventually opened his own sports store, the Wagga Boat and Sports Centre.
He was introduced to clay target shooting by friend Dr John Lewis in 1968. Barney was successful at the sport almost immediately, having a natural talent. Within 18 months of starting, he had won 24 Overall Championships and most impressively, his first National Title. It was the beginning of an auspicious sporting career.
Prior to taking up shooting, Barney raced power boats, and was Captain of the Wagga Wagga Boat Club in the early 1960s. A couple of his winning races included the BP 100 mile on Botany Bay, and the 500 mile on Lake Eppalock, Victoria. Barney was a keen fisherman, a hobby he retained until the day he died. Most notably, he held the record for a Yellow Fin Tuna caught on a 30 pound line at Bermagui. He was also a good tennis player and excellent ballroom dancer.
Before taking up Clay Target shooting, Barney shot Big Bore 303 Rifles, which he was also proficient in.
Barney's international career ran from 1969 to 1993. He was a member of the NSW team during that entire period and won numerous State, National and International Championships. He won over 21 National titles, over 22 State titles and over 30 International titles. He was a versatile shot, competing in Trap, Skeet, Olympic Trap and Skeet and Field and Game events.
He was a qualified Australian Clay Target Association (ACTA) and International Shooters Union (ISU) referee, and an ACTA Referee Examiner from 1974. In 1978 he was an ACTA Trap/Skeet Referee in the National competition.
In 1974 Barney captained a team of shooters to the U.S.A., and to New Zealand in 1976 and 1978. He won bronze at the World Masters Games in Toronto in 1989, and was a member of the 1993 Australian Team which toured New Zealand. In the course of his shooting career, Barney had over 25 trips to New Zealand and five to the U.S.A.
Over a 26 year period, Barney was involved in the administration of Clay Target shooting, and was an accredited Level 2 coach, coaching at both State and National levels. He was the Riverina Zone Coach from 1982 – 1986 and NSW State Coaching Director in the 1980s, until he resigned due to other work commitments. Over the years, he conducted more than 160 seminars and schools.
Barney was a NSW State Executive, and was on State and National Championship organising committees. He was the Wagga Wagga Gun Club President for many years, and from 1979, was an ACTA Shoot Marshall at State and National events. Barney was instrumental in the Wagga Wagga Gun Club ground being developed into the permanent National Shooting Grounds. He was also a founding committee member of the Wagga Wagga Veteran's Games.
He nurtured a love of the sport of shooting in his daughter Maree, also an inductee of the Sporting Hall of Fame. A particularly proud moment for Barney was when he and his daughter were runners-up in the National Skeet Mixed Pairs match. Barney was truly one of Wagga Wagga's sporting greats.