Tony Roche
Category: Sporting Hall of Fame
Sport: Tennis
Year Inducted: 1996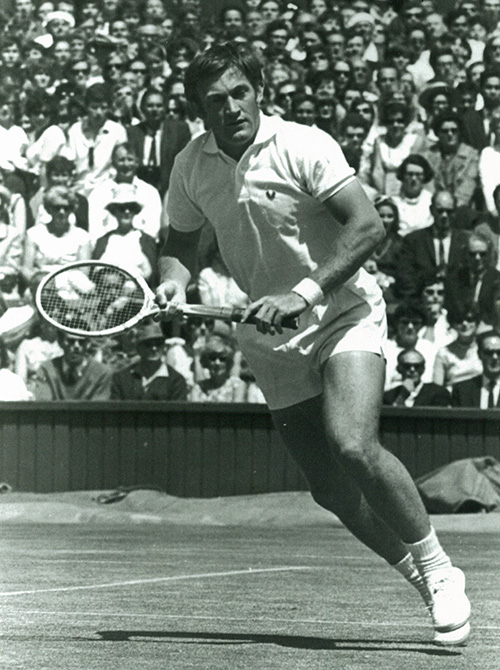 ---
"Roche possessed a difficult left-hand serve and was skilled in attacking his opponent with volleys." Australian Government website, The Golden Age of Tennis
Tony Roche was born in Tarcutta in 1945, and started playing tennis in his home town just nine years later. He joined the Wagga Wagga Tennis Club in 1958, aged thirteen years.
Tony developed his game playing in Australia under the tutelage of Harry Hopman, who also coached other Australian players, including tennis greats Rod Laver and Ken Rosewall. In 1968 Tony turned professional, signing with World Championship Tennis, and joining the likes of Cliff Drysdale, Nikki Pilic and Roger Taylor to form the 'Handsome Eight'.
A powerful lefthander, Tony enjoyed startling success on the doubles court with his long-time partner John Newcombe. Between 1965 and 1974 this unbeatable pair snared 12 grand slam doubles titles together, including five Wimbledon championships, four Australian and two French Open titles, and one U.S. Open title.
Tony's major singles successes were at the 1966 French Open and the 1967 Italian Open Hardcourt. He finished runner-up in the single titles on several occasions – twice at the French (1965 and 1967), twice in the U.S. (1969 and 1970) and once at Wimbledon (1968). He was a member of the Davis Cup team from 1964 – 1967 and again from 1974 – 1977. Tony was awarded an OBE in 1981.
Perhaps one of Tony's greatest achievements came in 1977, when he was called up to play singles in the finals of the Davis Cup tournament – Australia vs. Italy – nearly ten years after he had last played for his country. In the tie, Tony upset top Italian Adriano Panatta (6-3, 6-4, 6-4) to lead Australia to a 3-1 victory and winning the Davis Cup.
Shoulder and elbow injuries cut short Tony's career after having finished in the top ten for six consecutive years. Since retiring, Tony has developed a highly successful career as a tennis coach, and has mentored world number ones including Ivan Lendl, Patrick Rafter, Lleyton Hewitt and Roger Federer. He has also coached many junior players at Sydney Olympic Park for the ATP junior qualification pro tours.
In 2010 Tony was named Coach of Australia's Davis Cup squad, along with Pat Rafter, who was named captain.