Lloyd Richards
Category: Sporting Hall of Fame
Sport: Motorcycle racing
Year Inducted: 1998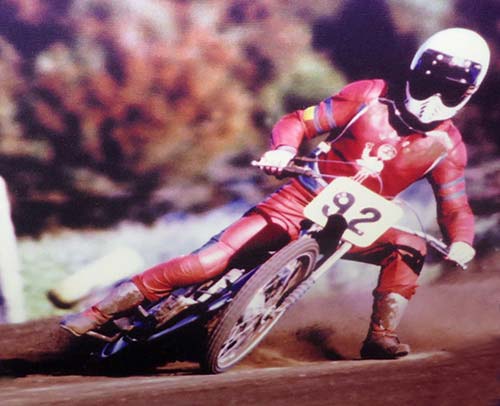 ---
"The leading contenders are NSW unlimited champion Keith Condron and Lloyd Richards, from Wagga…" The Canberra Times, 3 September 1981
Lloyd's main sport in his early schooldays was soccer, and in 1971, he won the school's Senior Boys Soccer Award. However, his first love has always been motorbikes.
He started competing in motorcycle sports at the age of fourteen. His first choice had been go-karts, but he ended up on a 70cc motorbike. Lloyd left school at the end of Year 10 to start a motorcycle apprenticeship with Jack Skeers. In 1990 he set up his own motorcycle repair business behind Wagga Shearing Supplies, at the rear of 167 Fitzmaurice Street.
One of Lloyd's first wins was in the 90cc class on a picnic ride with the Wagga Wagga Motorcycle Club. There was no track locally, so in 1974, he rode at Calder, Cootamundra and Tumut.
In 1977 Lloyd won the Aces Final at Young, and the following year, was part of the three-man winning team at the Nepean six-hour Endurance Title. Between 1977 and 1979 he won the Wagga Motor Cycle Short Circuit Title, and in 1980, won the 500cc A-grade Title.
In 1981 at Euroa, Victoria, sponsored by B and A Motors, Lloyd won his first State Title, the Victorian 500cc Short Circuit Dirt Track Championship.
He kept racing in NSW, and gained some minor placings. Mechanical failure saw him lose the Victorian title, but in 1988, a dream came true when he beat Kevin Horton, a former Australian champion, and Chris Watson, the then-current National champion. After fifteen years of riding, ten as an 'A' grader, he was finally NSW 500cc Dirt Track Champion.
Lloyd was selected to ride for Australia vs. England in the 1985 Test Series. He rode the Test at his home track, Yarragundry, and Australia came out on top. Lloyd finished as the highest point scorer for the day. Finally, in 1994, he became the Australian 250cc Classic Champion.
In spite of many a slide, mechanical failure and broken bones, Lloyd Richards will not part with his bikes. He has seen much of Australia and has built up a bank of many memories. Lloyd is now getting back to being involved with the sport he loves, but this time on the sideline and in the pit lane, supporting his son Jason at race meetings.