Robyn Puckett (nee Bennett)
Category: Sporting Hall of Fame
Sport: Golf
Year Inducted: 1998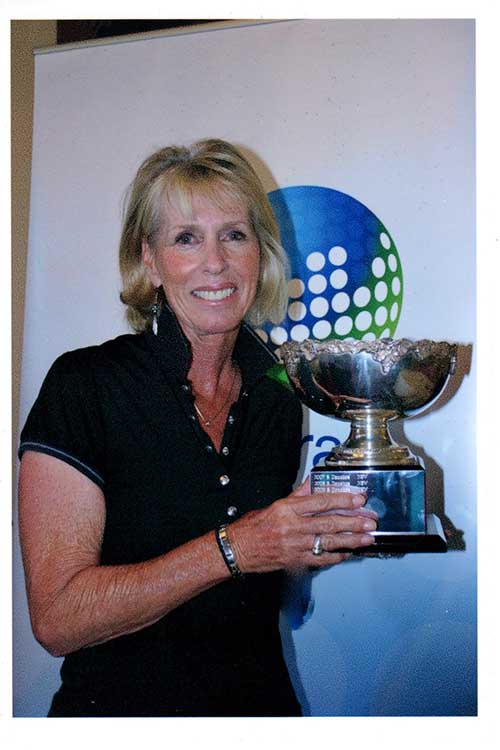 ---
"Brilliant 16-year-old Wagga lass Robyn Bennett stole the limelight at the N.S.W.L.G.U. match play golf tournament at Elanora today." The Canberra Times, 15 April 1964
Robyn was born in Dalby, Queensland, but was resident in Wagga Wagga on two occasions, from 1952 – 1955 and 1963 – 1968. She attended the Turvey Park Demonstration School and was an enthusiastic member of the Wagga Wagga Country Club. Her father, Bob Bennett, was her inspiration to take up the sport of golfing.
In 1964 Robyn was selected from Wagga Wagga to play in the Australian Junior team against New Zealand, resulting in her becoming that year's Australian Junior Champion. That same year she was also the 1964 NSW Open Match Play Champion.
Robyn was the 1969 – 1970 Victorian State Champion, and in 1970, joined the Australian team at the World Amateur championships in Madrid, also representing Australia against New Zealand in the Tasman Cup on returning home.
Between 1972 and 1976 Robyn competed in the U.S.A. Pro Tour.
As a member of the LPGA Teaching and Club Professional Division, Robyn was the U.S. Senior Champion for four years running (1997 – 2000) and Western Senior Champion in 1997. In the same division, Robyn and her partner won the U.S.A. Team Championship.
Robyn re-acquired her amateur status in 2003, and qualified for the U.S. Senior Women's Amateur Tour, competing from 2004 through to 2010. She was runner-up in 2007 going to the 20th hole, and was a semi-finalist two years later.
In 2008 Robyn competed in both the U.S. Women's Amateur and the U.S. Women's Mid-Amateur. That year she also represented California on the three player State team in the USGA State Team Championship.
Robyn still regularly competes not only in the U.S.A., but also in Australia. In 2010 she won the Australian Women's Senior Championship at the Commonwealth Golf Club in Melbourne, and in 2014, won the same Championship title at Tasmania's Riverside Golf Club.
The defining moment of Robyn's career was the first time she represented Australia. According to Robyn, one of the habits which helped her career was practicing her swing in front of a mirror. These days, her biggest challenge is staying fit and agile enough to compete at such a high level after reaching her sixties.