Ann Paul
Category: Local Legend
Sport: Hockey
Year Inducted: 2006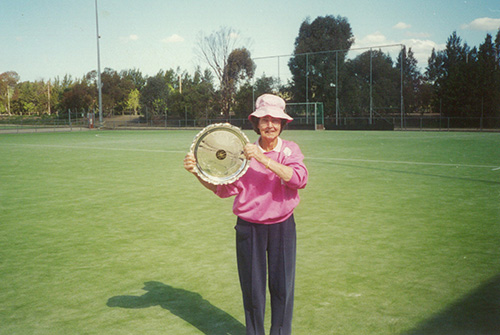 ---
"Wagga dominates hockey" Headline, The Canberra Times, 15 August 1978
Ann was born at Eastwood (Sydney) and came to Wagga Wagga in 1962 when her husband Donald was transferred there from Armidale to Wagga Wagga High School as English/History Master.
Ann herself was a teacher, trained in physical education, and was interested in all sports, particularly hockey, cricket, swimming, softball, tennis and golf. Her daughter Belinda was a talented hockey player who represented NSW in the U19 team.
Ann was actively involved in local hockey for nearly forty years. She was instrumental in relocating the sport of hockey in Wagga Wagga from the flood-prone land at the Wiradjuri Reserve to its present location at Jubilee Park. She was also the driving force behind the construction of the current synthetic playing fields and amenities there.
From 1975 – 1995 Ann was the delegate to the NSW Women's Hockey Association, and from 1978 – 1983 she was the Junior Selector for that Association, and a Selector from 1984 – 1995.
Ann received the NSW Hockey Services Award in 1986 and the NSW Meritorious Service Award two years later. In 1994, she was appointed a Life Member of the Association.
In 1980 Ann founded the Royals Hockey Club through Wagga Wagga High School, and was President of the Club from 1980 – 1995, as well as being the coach! The Royals are a family oriented club, and in 2013, they entered a men's team into the competition for the first time in 29 years.
Ann held a number of positions with the Wagga Wagga Combined Hockey Association including treasurer, secretary, president and vice-president. She was appointed as the Association's first Life Member in 1989, and also appointed as a Life Member to the NSW Women's Hockey Association in 1994.
Ann passed away in 2008, and is remembered through the Ann Paul Memorial Trophy, which is an annual award through the Wagga Wagga Combined Hockey Association.