Holly Parker
Category: Sporting Hall of Fame
Sport: Equestrian
Year Inducted: 2003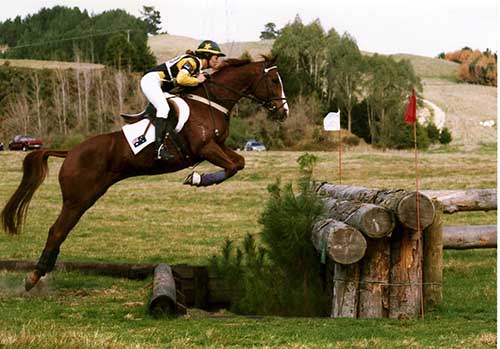 ---
"Holly Parker's Simity Sam does everything he is asked – and even manages to make the water look easy…" The Virtual Equestrian, 2004
Holly was born in Wagga Wagga on 28 October 1981, and began riding at just four years of age.
In 1991 Holly joined the Wagga Wagga and District Pony Club. In her last year competing in pony club, she won both the U15 and U17 age groups, the NSW State ODE Championships and represented NSW at Nationals.
Holly joined the Wagga Wagga Charles Sturt University Horse Trials and Hunt Club in 1997 and from there, progressed into open competitions. In 1999 she competed in her first three day event and represented NSW in the State teams competition. Her team was the outright winner, with Holly being placed third individually.
In 2002 Holly was chosen to represent Australia at the Young Rider Trans-Tasman competition at Taupo, New Zealand. The Australian team won, with Holly being the overall competition winner, leading from start to finish. This Australian team was the first to have their name engraved on the Trans-Tasman Cup trophy.
Through the 2000s Holly continued to perform and coach. In 2008 and 2009 she was level one champion. During 2010 Holly had many competition wins throughout NSW and Victoria.
She had competed at five dressage competitions for five wins, notably, the Wagga Wagga Dressage Champions, Medium Champion and winning the TTT State Dressage Championships (advanced) at Werribee, Victoria. This was the third year in a row that Holly won the competition.
Holly lived in Germany for 18 months where she trained and competed in dressage. She then moved to the U.S.A. with her imported German horse 'Skyfall', who won his first competition in the U.S.A. Today (2016) Holly lives in West Henrietta, New York, where she operates the business Holly Parker Equine, specialising in lessons, sales and training.