Bernard Nix
Category: Local Legend
Sport: Touch football referee
Year Inducted: 2006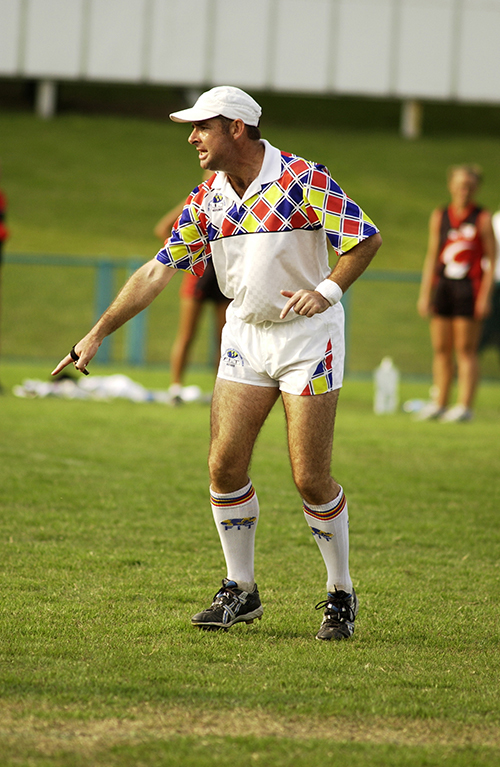 ---
"Wagga police detective Bernie Nix is the best referee in Group Nine – and not because he is trained in the use of a taser gun." The Daily Advertiser, 24 September 2010
Bernie was born in Wagga Wagga, and attended Sacred Heart Primary School and St. Michael's Regional High School.
Bernie's touch football career began in 1988 in Wagga Wagga, and since that time, he has refereed more than 3,500 touch football games at local, regional, state, national and international levels. He became a NSW State (Level 4) referee in 1991, a National (Level 5) referee in 1994 and an International (Level 6) referee in 1995.
The Level 6 International Badge can only be awarded on a unanimous decision by the Australian National Referees' Panel at the National Championships. This is the highest badge level that a referee can achieve in touch football.
During his fifteen year representative career, Bernie has officiated at over 50 NSW Championship games, two State of Origin (NSW vs. Qld) Championships, fourteen National Championships, four Trans-Tasman Test Series between Australia and New Zealand and three World Cups (with teams from over twelve countries). He has also refereed in excess of 45 international games.
Bernie retired from representative touch refereeing in 2003, and at that time, was ranked as the 5th touch football referee in the world.
In addition to this, Bernie held the position of Director of Referees for both Wagga Wagga Touch and the NSW Region Southern Suns (southern NSW) for many years. He continues to be actively involved in refereeing at this level.
In 1992 (after much encouragement by Rex Smith, Steve Pike and Alan Jacobson), Bernie obtained his rugby league referee's badge, and is currently an active referee in that field. He has also held the position of President of the NSW Country Rugby Leagues Group 9 Referee's Association.
Bernie has now refereed in excess of 300 senior Group 9 games.
Apart from his immediate family, the biggest influences on Bernie's refereeing career were his fellow referees mentioned above. Both Rex and Steve are also inductees of the Sporting Hall of Fame.
Today, Bernie still lives in Wagga Wagga, where he is a Detective with the Wagga Wagga Local Area Command.