Jacqueline Murphy
Category: Junior Sporting Hall of Fame
Sport: Netball
Year Inducted: 2006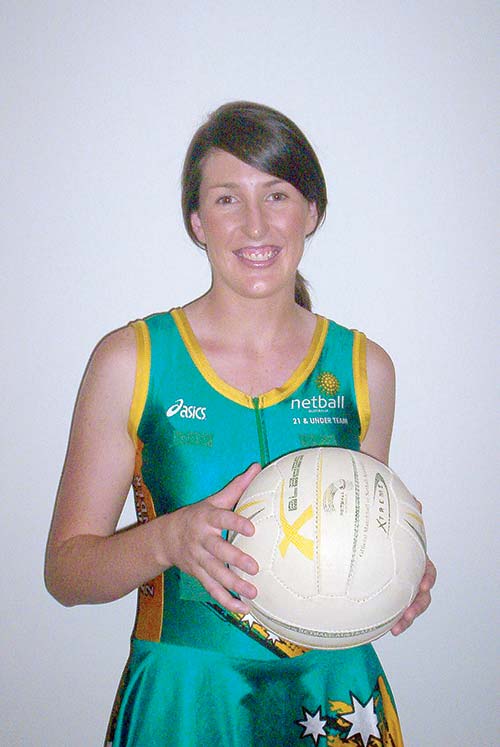 ---
"Pratley teamed with Riverina export and ex-NSW Swifts teammate Jackie Byrne to offer skills and inspiration to more than 100 youngsters from around the region." The Daily Advertiser, 13 March 2011
Jackie was born in Wagga Wagga on 29 March 1984 and grew up in the nearby village of Marrar, where she attended the local primary school. Later she studied at Mt Erin and Trinity Senior High schools in Wagga Wagga.
Jackie played netball from childhood, but her career accelerated in 2003 when she gained a full-time residential scholarship at the Australian Institute of Sports (AIS) and played for the Canberra Darters in the National Netball League. During this season she was selected in her first Australian 21 and Under (21/U) Team, competing in a Tri-Series against New Zealand, which saw Australia win 3-0. In 2004 Jackie retained her AIS scholarship, and her position in the team.
In 2005 Jackie was rewarded for her commitment to, and leadership in the AIS scholarship program, being named Vice-Captain of the AIS Canberra Darters. She was selected in the 21/U team which travelled to the U.S.A. and Jamaica in preparation for the World Youth Netball Championships in Miami, Florida. This tour proved to be a defining moment in Jackie's career.
Jackie moved to Sydney in 2006, where she played with the Sydney Swifts in the National Netball League for the next two years. She was also selected to play in the 2006 Emerging Australian Open Talent Squad. The Swifts were undefeated premiers in 2006 and again in 2007. That same year Jackie was invited to join the Swift's leadership team.
In addition to her representative duties with the Swifts, Jackie also managed to complete a Bachelor of Physical Education and Health at the Australian College of Physical Education (Sydney) in 2007. In 2008 she played in the Australian National Netball League for the NSW Waratahs, who finished 4th overall. She also captained her NSW State League team in Manly to 3rd position.
In 2008, for Jackie, came the moment that many athletes dread. In the Australian National League finals, Jackie injured her knee. That October, she underwent a full knee reconstruction, followed by a twelve month rehabilitation program. She moved back to Wagga full-time in 2009.
Jackie married in April 2009, and had her first child, Harrison a year later.
Jackie's passion for netball continues to this day. After returning to live in Wagga Wagga, she shares her experience with local players as a board member of the Southern Sports Academy, and was also involved on the executive board of the Wagga Wagga Netball Association (in addition to playing socially).
In March 2011 Jackie worked with her former Swifts teammate Susan Pratley and organised a clinic in Wagga Wagga to encourage local girls to get involved in netball. In 2016 Jackie works as a P.E. teacher at her former high school, now known as Kildare Catholic College, a role which she enjoys immensely.