Warren Miller
Category: Sporting Hall of Fame
Sport: Pentathlon
Year Inducted: 1998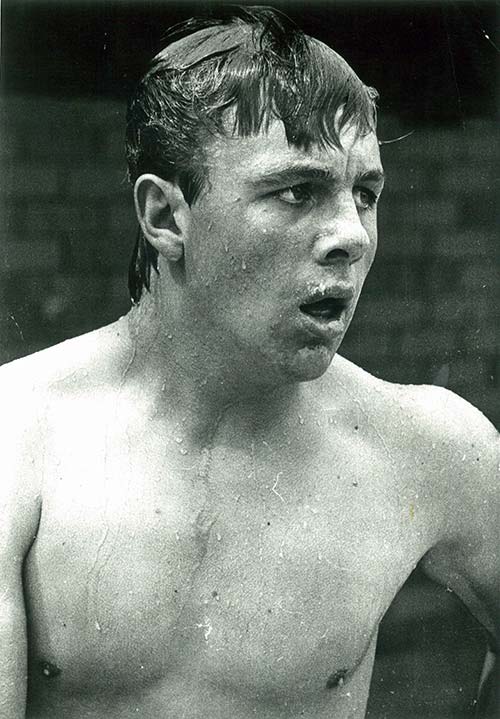 ---
"I've always played my sport very hard but very fair." Kirsti Miller (formerly Warren Miller), 2013
The modern pentathlon includes a swim (300m), a timed cross-country run (3000m), a horse ride over jumps, a fencing match and pistol shooting (.22 calibre) over a 25m range.
In 1979 Warren took part in the Australian Aquathon team versus New Zealand and in 1980 he represented Australia at the Junior Modern Pentathlon World Championships in Spain.
1981 saw Warren again at the Junior Modern Pentathlon World Championships, this time in Germany, and the following year he represented Australia at the same event in Britain. In 1983 Warren was a member of the Senior Modern Pentathlon team and competed at the World Championships in the U.S.A.
Early in his high school career, Warren showed good style and a dedication to swimming, causing his coach, Robbie Robinson, to predict a bright future in swimming and the possibility of Commonwealth gold in the not-too-distant future. There was a level-headedness with a strong will to win that went towards making Warren a sporting champion.
Warren's aquathon career kicked off at an even held at Lake Albert. Here, Warren raced, and beat some of Australia's top Olympic pentathletes. Ken Hodges, the pentathlon manager, watched his performance and recommended an expansion of activities, in order that he might break into the new field. In 1980 Warren became the Australian U16 Aquathon Champion.
It was inevitable that the multi-talented Warren would combine sports. Aquathon and triathlon were the most obvious, but his performance went one step further when he took up the modern pentathlon. Warren's strongest sport was swimming, and the one he found most nerve-racking the shooting component. For the riding section, Warren was a beginner, and had to learn everything from scratch.
When Warren competed at the Junior Modern Pentathlon World Championships in Spain, he was the youngest Australian competitor ever selected for this sport. The team finished ninth from a field of 23. After representing the juniors over the following three years, he finally made the Men's Open Team for the World Championships that were held in conjunction with the Pan Pacific Games in San Antonio, Texas. He finished as the top Australian in 38th position, which was in the top half of the field.
As a competitor in the Modern Pentathlon, travelling had its challenges. You are not only required to transport your horse, but also pistols (challenging in the age of hijacking) and foils for fencing. Once, on a stopover in communist Prague, on his way to the World Championships in London, the Prague authorities received information from Singapore that a pistol had been found in Warren's luggage. A lengthy interrogation followed, and the Australian Embassy had to intervene before Warren and his pistol were released. As a result, Warren arrived in London several days before his pistol, thus restricting his practice time, and therefore impacting his overall performance.
Devoting a great deal of his time to the Modern Pentathlon did not restrict Warren's involvement in other sports. He had great success as a swimmer, aquathon, triathlon and also in rugby league, when he came back to play for the Ladysmith and Brothers Clubs. Warren played grand final football, and managed to achieve the 'Best Forward' award and was also runner up in the 'Best and Fairest'.
Warren returned to school in 1982, completing his education at Kooringal High School. He saw the need for a completed education and was grateful for the time and support of his parents, Warren (Senior) and Maree. A great deal of effort, time and money goes into the making of a champion and so many kids would not make it were it not for the Saturday morning taxi-run!
In 2013, Warren, now known as Kirsti, became the first transgender footballer in Broken Hill when she made her debut for South at Alma Oval in the Broken Hill Women's AFL competition.