Ken McMullen
Category: Sporting Hall of Fame
Sport: Rugby Union
Year Inducted: 1996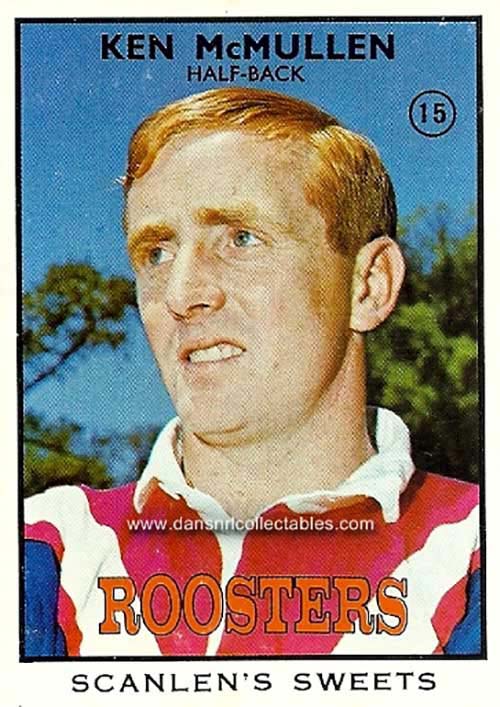 ---
"This lad took the eyes of the spectators." The Daily Advertiser, 21 April 1953
Ken was born in Wagga on 14 April 1941.
A natural athlete who began his football career playing league at school, he was persuaded to switch to union at the age of sixteen, while still a student at Wagga Wagga High School. In summer, Ken played cricket well enough to be selected for Wagga Wagga and for the Combined Country NSW Colts, to play against England and the West Indies.
In 1960 Ken toured New Zealand with the NSW Country team and continued in 1961 with further representative games. In 1962 he played in two Tests against New Zealand. In 1963 he played in a Test against South Africa as well as in the Sydney Test against England. The following year he began a four-year career with the Eastern Suburbs Rugby League Team. After leaving Sydney, he coached the Dubbo CYMS Rugby Club, taking them from being 'wooden spooners' to being dual Premiership winners.
Little Ken, nicknamed 'Nipper', was a lively, halfback with flaming red hair, a very strong pass, a lot of early speed, a tricky side-step and the ability to kick well with both feet. He had a keen rivalry with fellow teammate Ken Catchpole for the job as Australia's test half in the early 1960s. His performances were impressive, and he was unfortunate not to have enjoyed a far longer international career.
He started as a centre, moved to fly half and settled at halfback. Even on the wettest days his red hair and small physique (he stood 5'7") made him conspicuous as he flattened larger opponents. 'I'd sooner make a good tackle than score a try,' he once said. 'It's a real thrill to bring down the big blokes.' His competitiveness with Catchpole began after a fine tour of New Zealand with NSW Country in 1960, and continued throughout the representative games of 1961. In 1962 Ken played in two of the three Tests against New Zealand, making his Test debut at Wellington after outstanding performances in earlier games.
Ken's only weakness was that he tried to run too much, but he was quick around the scrums, primed his colleagues with long, accurate passes and well-judged kicks, and worked the blind side cleverly. Only Catchpole at his peak stopped Ken playing more than one Test in South Africa in 1963, but he did play in the Sydney Test that year against England when Catchpole was out with an injured ankle.
Sadly, Ken died of cancer aged just forty-four, one of three men from the team that beat England to succumb to that dreaded disease while still relatively young men.
In total, Ken managed 23 matches for the Wallabies, and is still remembered around Wagga Wagga, where a Ken McMullen junior development trust helps all sport for youngsters. The local senior club champion receives the McMullen Cup and the best on ground in the Grand Final, the Ken McMullen Medal.
From 2008, Ken has also been commemorated by Dubbo CYMS, the club he coached. Each year, the club wraps up its rugby league season with their night of nights, the Ken McMullen Presentation Night, with an award given to the player who displays outstanding ability, commitment and leadership. Those who remember Ken 'held him in high regard and he has had a big influence on where the club is today.'