Terry McDonald
Category: Sporting Hall of Fame
Sport: Motorcycle racing
Year Inducted: 1996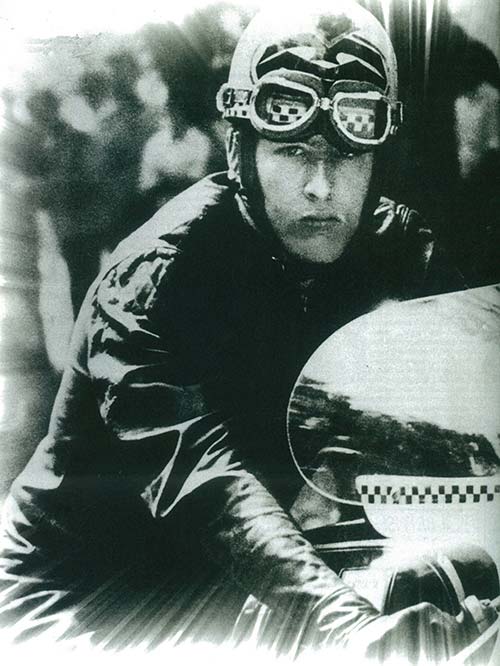 ---
"Even as a kid, Terry was fit, adventurous and had no fear." Allan Tye, childhood friend
Born in Melbourne on 1 June 1947, Terry moved to Wagga Wagga with his family when he was just four years old. The family initially settled in Dalton Street, Turvey Park, but then moved to a small property at Rowan, about 10km out of town. Here, Terry revelled in the country life. He attended Turvey Park Primary and Wagga Wagga High, where Terry won the mile race in bare feet against the serious competitors who had track shoes and starting blocks.
After leaving school, he worked in various jobs, including apprentice carpenter, motorcycle mechanic and farm hand. Terry had many hobbies including playing the guitar, mouth organ and ukulele. He also enjoyed art and loved animals.
Terry's overriding passion was, however, motorcycling. Although small and slight, he earned the nickname 'Skin'. He competed in various motorcycling events, including Short Circuit, Speedway, Scramble (Motor Cross), Trials, Grass Track and Road Racing. He rode on numerous tracks throughout Australia – Albury Showground, Hume Weir Circuit, Narrandera, Griffith, Temora, Cootamundra, Young, West Wyalong, Orange, Goulburn, Taree, Nepean, Bathurst (Mt. Panorama), St. Kilda, Adelaide, Moruya, Mount Ginn (Canberra), Perth and Whitton.
In four short years of competition riding, Terry accomplished more than most riders do in a lifetime. Not only was he a National Dirt Track Champion, he was also an expert Road Racer and Scrambles Rider. He had the unique honour of being the only rider ever to hold an international road race and international grass track licence concurrently.
In 1970 he was the Australian 250cc Short Circuit Champion, the NSW 250cc Short Circuit Champion and the Victoria 250cc Grass Circuit Champion. His proudest achievement was winning the 1970 500cc Hungarian Grand Prix.
At Bathurst in 1970, Terry rode a 250cc Bultaco Metralla in the 250cc Production Race. He beat Kevin Frazer, and lowered the Production Race track record by six seconds.
Following this victory, Terry travelled to Europe with friend Alan Black of Canberra. They travelled back and forth to England, living most of the time on the road in a van. While there, Terry competed in the Hungarian Grand Prix as a wildcard entry on his 500cc G50 Matchless (an early 1960 model) and won the race.
He then travelled to the island of Corfu, to compete in the Grand Prix of Greece, a 3.6 mile circuit laid out through the streets of the city. In the qualifying round, Terry attacked the circuit with gusto, hoping to win a good grid position. Sadly, he misjudged a corner, clipped the inside kerb and pitched himself off his bike. He struck a roadside pole headfirst, receiving severe head and neck injuries, and was pronounced dead on arrival at Corfu Hospital. He was just 23 years old.
On Sunday 28 May 1972, the Terry McDonald Memorial Races were held on Mount Ginn in Canberra. Following his death, the Automobile and Touring Club of Greece also donated a trophy in Terry's memory. This trophy was awarded for the main event at these races, and was won by Terry's friend and great rival, Kevin Fraser.
Terry's body was flown home after his death, and today, he rests in Wagga Wagga Cemetery.