Steve Martin
Category: Sporting Hall of Fame
Sport: Rugby League
Year Inducted: 1996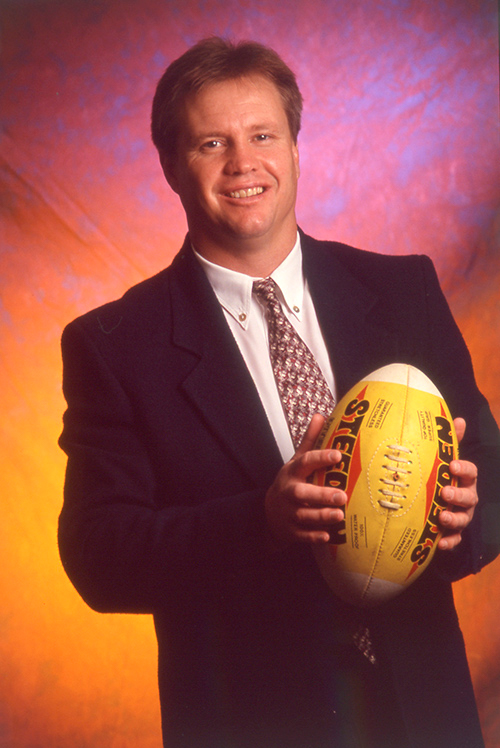 ---
"1977… saw the emergence of a new "wiz-kid" in the shape of Wagga Wagga's Steve Martin." Manly Warringah Sea Eagles homepage
Steve was born in Wagga Wagga on 7 January 1957. He started out as an Australian Rules footballer in Wagga Wagga, before switching to rugby league when he joined the Wagga Wagga Kangaroo Panthers Club in 1972. Other famous alumni of this Club include cricketer Geoff Lawson and footballer Peter Sterling, also inductees of the Sporting Hall of Fame.
Steve played his entire local club career with the Kangaroo Panthers, and at the age of eighteen, had graduated to first-grade. Teammates christened Steve with the nickname 'Whiz', because this classy utility-back had an acceleration which really made him whiz through the opposition.
He spent 1975 – 1976 playing for Barrow in English club football, and first came to the attention of first-grade clubs in Australia when he represented the Riverina in the 1976 Amco Cup competition. The Amco Cup (also known by various other sponsors' names including the Tooth Cup, KB Cup, National Panasonic Cup and Panasonic Cup) was a mid-week rugby league competition held in Australia between 1974 and 1989.
Steve burst onto the international scene in 1978. He was half-back in Manly-Warringah's Premiership-winning side and one of seven chosen from the Sea Eagles' ranks to make the squad for the Kangaroo tour of Britain and France. This was to be his only Test appearance. He toured New Zealand in 1980, but did not make the Test sides. He did, however, play in the first State of Origin team that same year.
In 1982 Steve switched to Balmain, where he joined his old Manly coach, Frank Stanton, for three years. He then transferred to Leeds (U.K.) in 1984.
In 1985 he began a successful career as in coaching. He led West Tamworth to successive Premiership wins in 1986 and 1987 in the Group 4 Country Rugby League competition.
Steve's first taste of Sydney coaching came in 1988 when he took over North Sydney's reserve grade side (the Bears). Under his guidance, the Bears lifted their rank from 11th, to within one point of the semi-finals in his first year, and to Premiership contention the following year. This was North's first taste of success in any grade for 30 years. It came as no surprise that Steve took over as first-grade mentor at the end of 1989.
With a few judicious signings to the Bears, including international centre Peter Jackson, veteran Souths' forward Mario Fenech and goal-kicking New Zealand rugby winger Daryl Halligan, Steve was able to mould North Sydney into a well-balanced team. In 1991 the Bears made the semi-finals for the first time in almost a decade, and missed the Grand Finals by just two points. Unfortunately his winning formula became staid and predictable, and he resigned the following year after a disappointing season.
In 1993 Steve coached the Featherstone Rovers (U.K.) to win the Second Division Premiership at Old Trafford, and saw their promotion into the First Division. Steve continued to coach the Rovers in First Division throughout 1994 and 1995.
The following year Steve returned to Brisbane, where he became CEO of Brothers Rugby Union Club. He returned to rugby league in 1997 to coach South Sydney.
Steve then became involved with the NSW 'Origin Legends', and also coached the U18s Viking Representative team on the Gold Coast, where he is still resident in 2016.
Those who influenced Steve's sporting career included South Sydney great Greg Hawick, his father-in-law and former Great Britain player Phil Jackson, coach Frank Stanton and his father Rod, who passed onto Steve his work ethic and attitude.