Anna Longmore and Matthew Rooke
Category: Sporting Hall of Fame
Sport: Dancesport
Year Inducted: 2006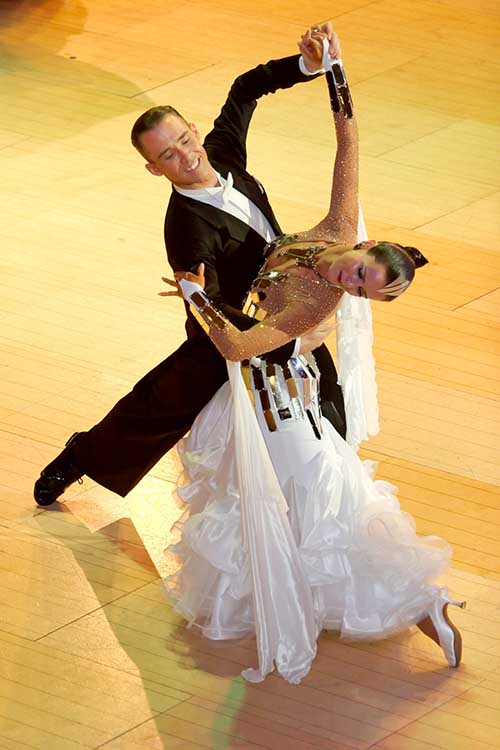 Inducted 2006 for achievements in Dancesport
---
"Dance because it makes you happy." Anna Longmore, 2014
"…this is a sport, but it's an art form as well." Matthew Rooke, Sunday Herald Sun, 18 December 2011
Matthew and Anna started dancing together in 1992. In the time since, they have represented Australia at the World Games (2005) IDSF World Cup (2002 and 2007) and have been Australia's number one representative to the IDSF Amateur World Standard Championships (2001, 2002, 2003, 2004 and 2005). Matt and Anna were also undefeated Australian Amateur champions in 2001, 2002, 2003, 2004, 2005, 2006 and 2007, a record seven times!
At the end of 2008 Matt and Anna embarked on their professional career. They went on to become Australian champions in 2008, 2009, 2010 and 2011, and represented Australia at three World Dance Council Professional Standard World Championships in 2009, 2010 and 2011.
In their professional career, Matt and Anna were consistently ranked amongst the Top 12 couples in the World from 2009 - 2012.
They were WDC Professional Standard World Cup finalists and also made the Semi-Finals of the WDC World Championships, British Open, UK Open, International Championships and the Asian Open.
Matt and Anna's best dancing result in their long partnership was at Blackpool Professional Ballroom 2012, when they finished 8th in the Foxtrot and Tango and 10th overall.
Matt and Anna ended their 21 year partnership in November 2012. Matt continued competing for one more year, dancing with a new partner from Latvia, and they too were crowned Australian Professional Champions in 2013. This took Matt's tally to 12 Australian Amateur and Professional titles.
Matt has since retired from competition and now spends his time coaching; enjoying passing on his knowledge and passion to the next generation of champions. He is one of three generations of the Rooke family to be inducted into the Wagga Wagga Sporting Hall of Fame, alongside his grandad, shooter Barney Rooke, and aunt, Maree Schuster (née Rooke).
In 2016 both Matt and Anna are highly sought after dance coaches, Matt is based overseas, and Anna in Victoria.