James Lenehan
Category: Sporting Hall of Fame
Sport: Rugby Union
Year Inducted: 1996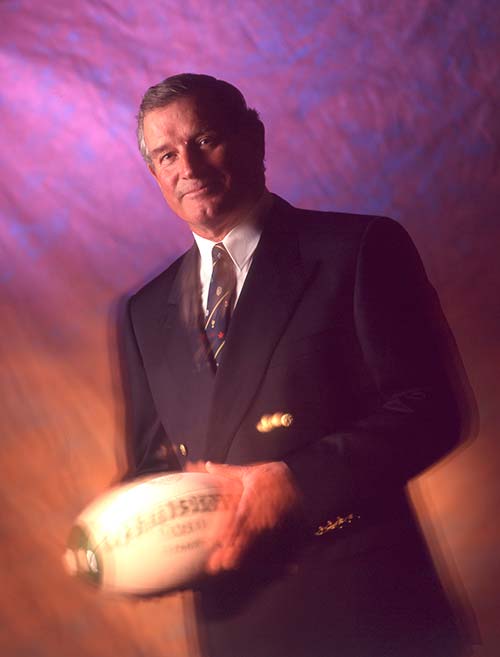 ---
"The display of full-back Jim Lenehan was the shining light. He banged over two penalty goals and a long field goal to account for all of Australia's goals." The Canberra Times, 31 October 1966
James, known as 'Jim', was born in Wagga Wagga on 29 April 1938. He developed as a rugby union player in the Riverina, playing with the Wagga Waratahs and the Narrandera Club.
From early in his career, Jim's long and accurate kicks were a feature of his game. While a student at Riverview College, he caught the attention of the noted coach Alan Roper. He was proving a sensation as a full-back and was also a champion hurdler of some note.
A number of Wallabies graduated from Riverview, including Ian Comrie-Thomson (1926-28), John Coolican (1982-83), Bryan (1913) and Jim Hughes (1907), John Manning (1904), 'Tug' Morrissey (1925-26), 'Iggy' and Jack O'Donnell (1899) and Bob Westfield (1928-29). The greatest of them all though, was 'Big Jim' Lenehan.
In 1956 nineteen year old Jim was discovered by the St. George Rugby Club, and was promptly chosen for the 1957 – 1958 Wallaby Tour of Britain, France and North America, as a second full-back to Terry Curley. Jim soon became the team's key centre, with the omission of Dick Tooth and Jim Phipps, who broke his leg in the 18th game of the 41 match tour. This forced a heavy workload on the young player, who played in 32 of the 41 matches.
Jim was a gifted utility-back who was fast on his feet, with a tackling style that often dazzled opponents, and was also surprisingly effective with his drop kicks and punts. One wet day on the 1957-58 tour, in a match against Llanelli in Wales, Jim punted the ball to clear from the Australian line, the ball landed near the Llanelli quarter line, bounced on and went over the dead-ball line! He punted that ball with his left foot, as he did with all his long kicks, and found that he could never achieve anything like the same distance with his right foot.
Jim's deadly tackling made him a feared opponent, but as the Wallabies struggled to build a reasonable tour record, his keenness sometimes led him into indiscretions. He was booed by spectators at St. Helen's, in the match against Swansea, and when the Wallabies played England at Twickenham, he became the target of the crowd's wrath with an outburst of unprecedented jeering when he flattened England's left winger, P.H. Thompson.
Historically, this game was one of the roughest international matches since World War II. Peter Jackson's wonderful try in extra time won the game for England 9-6. Of the game, The London Times reported 'It was rough justice that the Australians should have lost in injury time. Rugby football is no namby-pamby game, but there is a point where ruggedness must stop. Booing at a rugby match is fortunately an ugly rarity, and hitherto almost unthinkable at Twickenham, but there were several instances where the crowd's indignation was justified. Thompson was knocked cold by an act of irresponsibility so unexpected that the referee did not see it, and there were other instances of totally unnecessary petulance. But, it was perhaps an even bigger pity that parts of the crowd should be unable to distinguish between such occurrences and robust give and take.'
On his return to Australia in 1958, Jim played in the three Tests against the NZ Maoris on home soil, and later that year, made his first tour to New Zealand. Unfortunately, a leg injury allowed him only two matches.
In 1959 he played full-back in the two Tests against the British Lions and for NSW Country, and for NSW when it defeated the Lions 18-14 in Sydney. The following year, he went to New Zealand for a second time with a NSW Country side, playing in five games.
In 1961 Jim went to South Africa on Australia's short tour. He also played a match for Australia that year against France in Sydney, which the overseas visitors won 15-8.
Jim captained NSW Country and the State and National teams in 1962, and toured New Zealand as Vice-Captain of the Australian team led by John Thornett. His displays at this time were studded with brilliance. He was chosen for the 1963 Australian tour of South Africa, but got only as far as Perth before team manager Bill McLaughlin sent him home due to a knee injury. Terry Casey replaced Jim, but 'Big Jim' as he was known, bounced back as Australia's full-back in 1965 for the two Tests Australia won on home turf against the Springboks. His tackling in both matches was devastating.
On tour with the Wallabies in Britain, France and Canada in 1966 – 1967, Jim played in all five internationals and scored 74 points. It was the second successive tour on which he topped the Wallabies' point scoring in Britain.
Jim made his last Test appearance in Sydney in 1967 against Ireland, who won 11-5.
This multi-talented footballer had a ten-year international career during which he played for Australia in three positions – full-back, wing and centre, handling positional changes with ease. His representative career extended from 1957 – 1967, and in all, he would play in 80 matches for the green and gold, including 23 Tests. He would only captain one Test, but he was the only one from his old school (Riverview) to be accorded such an honour.
Being a grazier's son, it is perhaps unsurprising that Jim returned to the land in his retirement, farming 'Beggan Beggan' at Harden, just outside Cootamundra.
Jim passed away on August 26th, 2022.