Geoff Lawson
Category: Sporting Hall of Fame
Sport: Cricket
Year Inducted: 1996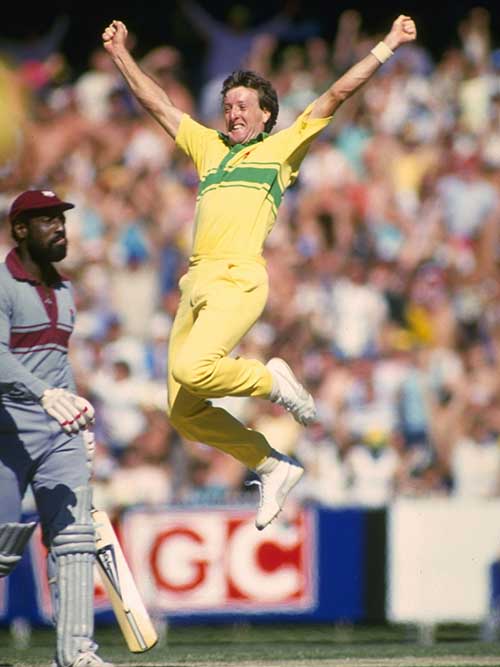 ---
"Steaming into the attack was a raw-boned, Wagga-born, right-armed newcomer… with a look on his face which should have activated the alarm systems for the experienced Englishmen." The Sydney Morning Herald, 23 October 1988
Geoff was born in Wagga Wagga on 7 December 1957. He first picked up a cricket bat at the age of seven, and played his first match for Wagga Wagga Public School when he was eight.
As a schoolboy, a typical winter's weekend for Geoff might have involved Friday night ten-pin bowls, Saturday morning playing or refereeing junior rugby league, then down to the cricket ground to play rugby union with Wagga City grade teams. Sunday could see a morning golf game, followed by an afternoon of Australian Rules. Geoff played all three codes of football as well as cricket, golf, tennis, squash and ten-pin bowls. At the age of fifteen, cricket began to take prominence as Geoff made his first-grade debut.
Geoff played cricket for the Police Boys' Club, Lake Albert Cricket Club and Mount Austin High School. He also helped out with umpiring games, including a game where fellow Sporting Hall of Fame inductee Mark Taylor scored a century.
After high school, Geoff studied optometry at the University of NSW. In 1976 he joined the University's Cricket Club where the coach was John Rogers, the brother of Derek Rogers, who coincidentally, was Geoff's ancient history teacher back at high school. The Rogers brothers had a huge influence on his sporting career.
Geoff went straight into first-grade where he played for sixteen seasons. He made his NSW debut in 1977 and two years later, when international representation was introduced, twelve overseas tours followed.
Geoff first came to notice in international cricket by bowling a series of bouncers during a brief spell against Geoff Boycott in a tour match between NSW and England in the 1978 – 1979 season. He was called up as a replacement player for the 1979 tour of India, but did not play a Test match. Similarly, he toured Pakistan in 1980 but did not make the Test team.
It wasn't until the first Test match against New Zealand in Brisbane in the 1980 – 1981 season that Geoff made his Test debut.
In only his third Test, Geoff returned 7/81 in the first innings against England at Lords (1981), which earned him the Man of the Match award.
In 1982 Geoff established himself as a leading bowler on Australia's tour of Pakistan, when he claimed nine wickets at 33.55 in three Tests.
Throughout the mid-late eighties, Geoff was largely absent, due to illness, injuries and falling out of favour with the selectors and Captain Allan Border. He played a single Test in both the 1986 – 1987 Ashes Series and the 1988 – 1989 Test against the West Indies. In the latter match, he took three wickets, but had his jaw broken by a bouncer from Curtly Ambrose while batting.
Although he recovered to make the 1989 tour of England, this last season proved to be the Indian summer of his career. In the 1989 – 1990 Australian season, he played just two Test matches, and was dropped for the third.
Geoff continued to play for NSW until the end of the 1991 – 1992 season, and retired from his playing career the following year. Between 1995 and 1997 Geoff coached the NSW team.
In the Sheffield Shield competition, Geoff played a total of 115 matches in his career. He captained NSW 40 times between 1988 and 1992, and led the team to the title in the 1991 – 1992 final, his final first-class game. In all, he captured 395 wickets for NSW. Throughout his career, Geoff competed in 46 Tests and 80 One Day Internationals.
In July 2007 Geoff began coaching the Pakistan national cricket team. Within a few months, he took them to the final of the first ever T20 World Cup in South Africa, where they narrowly lost a memorable match to arch-rivals India.
Since leaving that position in October 2008, Geoff has coached extensively throughout India and has become one of the most experienced international coaches in the world.
In 2016, Geoff lives in Sydney, where he is the assistant coach with the NSW and Sydney Sixers (in Australian Big Bash League), but still keeps a critical professional eye on the cricket world cricket scene, and is especially interested in India.