John Langford
Category: Sporting Hall of Fame
Sport: Rugby Union
Year Inducted: 1998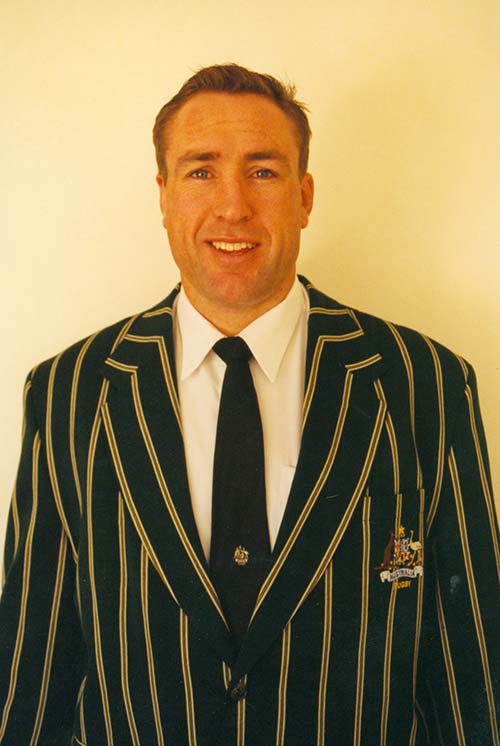 ---
"Limerick's favourite Australian" The Independent, 30 April 2000
John was born in Wagga Wagga on 26 June 1968. He attended South Wagga Primary and Wagga Wagga High School. While at school John played golf and participated in cross-country running. It wasn't until 1987, during his first year at the University of Sydney, that he took up rugby union, playing with the Sydney University Football Club as a Lock.
John took to the union code sufficiently quickly to represent Australia Universities and begin the pathway to life as a pro player.
In 1991 John played for Sydney in his first representative match. From here, he went on to play for NSW Country, NSW and the Australian Barbarians. He captained the Australian Universities side in 1993, as well as the Emerging Wallabies against Namibia during their tour to South Africa in 1994.
John is a foundation member of the ACT Brumbies Club, which was created in 1996. With the Brumbies, he played over sixty games, including forty-six consecutive Super 12 matches. The Brumbies finished fifth in their inaugural season, and his Super Rugby form brought John to the attention of the Wallabies.
He toured with the Wallabies to the UK in 1996 and again the following year. He also toured to Argentina in 1997. He was promoted to the Test line-up and won four caps, representing Australia against the All Blacks, South Africa, England and Scotland.
Following his success with the Wallabies, John was looking to cash in, and find an overseas club to play with. This road led him to Munster in the south of Ireland. He joined Munster for three seasons, and played thirty games for the province between 1999 and the start of their 2001 – 2002 campaign. In the process, he made his mark on the home grown squad from the very outset with his professional approach and attitude as well as his willingness to pass on his experience to younger players.
John became one of Irish rugby's most significant overseas signings during this three-season spell. He left Munster to return home in 2001, but continued to play with Sydney University, before finally hanging up his boots in 2011 at the age of 43.
Like many athletes, John had a pre-match ritual. He would always put his left sock and boot on first.