Brad Kahlefeldt
Category: Sporting Hall of Fame
Sport: Triathlon
Year Inducted: 1998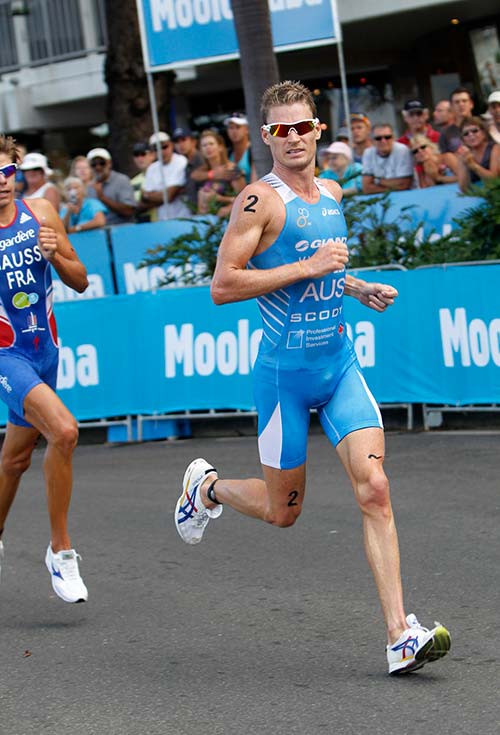 ---
"The training in Wagga is sensational, the pool is nice, plenty of options and routes for cycling with plenty of cycling groups to meet up each morning and endless amount of running trails with a strong running community." Brad Kahlefeldt, The Daily Advertiser, 18 January 2016
Brad was born in Temora on 27 July 1979, and moved to Wagga Wagga with his family eight years later. Here, he attended Sacred Heart Primary, St. Michael's and Trinity High schools. Growing up in the 'City of Good Sports', like a lot of Wagga Wagga's youth, he was active in a range of sports, including basketball, soccer, athletics, cricket and Australian Rules football. He also grew up in a sporty family. His parents are both highly experienced marathon runners, and his siblings (three sisters and two brothers) all played various sports at a high level.
As an Australian Rules player, Brad won the Best and Fairest Award twice, also competing in the 1500m, 3000m and cross-country events at a National level. Unfortunately, he had to make a tough decision between his sports, and decided to pursue running over football.
Brad first represented Australia in 1996 at the Junior Duathlon World Championships in Italy, and the following year, competed in the same event in Spain.
In 1998 he represented Australia in the Amakusa Triathlon in Japan. That same year, he was selected for the Australian Junior Triathlon team at the Swiss World Championships, and also the Australian Junior Duathlon team at the German World Championships.
Professionally, 2006 was a great year for Brad. He won ten major races, and competed at the Commonwealth Games in Melbourne. Brad, or 'Sticksy' as he became known, won not only the gold medal in Triathlon, but had four World Cup victories as well.
Brad has three World Championship bronze medals (2005, 2007 and 2010).
In 2008 Brad made his Olympic debut in Beijing, where he placed 11th in the Triathlon. He was also chosen as the 2008 Australia Day Ambassador for his hometown of Wagga Wagga that year.
His consistent form in the lead-up to the London Olympics saw him pre-nominated for the 2012 Games. In London, he came out of the water in 33rd position and held his place throughout the bike and run legs to eventually finish 32nd, just 3:58 seconds behind the gold medallist Alastair Brownlee of the U.K.
The defining moments of Brad's career were when he first started winning events at Jubilee Oval (Wagga Wagga), being presented with his first Commonwealth Games gold medal and receiving his first pay check as a triathlete.
Brad's preparation always involves doing a 'dry run' of the course. He now splits his time between the Gold Coast and France during the European summer, and occasionally visits home, where his family still lives.
In January 2016, Brad launched his new coaching website, BKR Coaching. He plans on racing professionally for a few more years, but is getting ready for the next phase of his life, which involves not only marriage to London Olympian Radka Vodickova in late 2016, but also helping his sport's next generation. In addition to competing, he currently coaches some Wagga athletes, and is hoping to hold training camps in the region in the near future.