Josh Collingwood
Category: Sporting Hall of Fame
Sport: Cycling
Year Inducted: 1998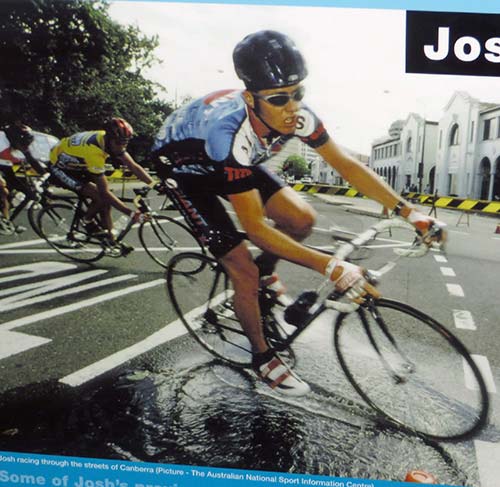 ---
"I came from a family of cyclists, including my dad and my mum's dad. So I was immersed in a cycling culture." Josh Collingwood, 2014
In 1995 when Josh Collingwood won the Junior World Road Time Trial Cycling Championship he became only the second Australian to win a world championship in European dominated world of road cycling.
Having grown up in a cycling family, Collingwood was racing before the age of 3 and was mentored by his father Wayne, and local cycling legend Barry O'Hagan. As a junior Collingwood excelled in time trial events, hill climbing and long distance track events. After winning numerous state and national events, Collingwood self-coached and based in Wagga Wagga made selection for his first Australian National Team in 1995, and had a dominant season in Italy en route to winning the 1995 Junior World Cycling Championship in Ravenna, Italy.
Following his world championship victory he raced with numerous Australian National Teams, European and American Professional cycling teams before leaving the sport in 2002 to pursue tertiary studies in human physiology and biochemistry. He returned to the sport at the elite level in 2005 and completed his last international season in Germany in 2006.
Today he is a doctor in Victoria living and working between Ballarat and Melbourne where he is practicing Rehabilitation Medicine.