Allison Jones
Category: Sporting Hall of Fame
Sport: Orienteering
Year Inducted: 1996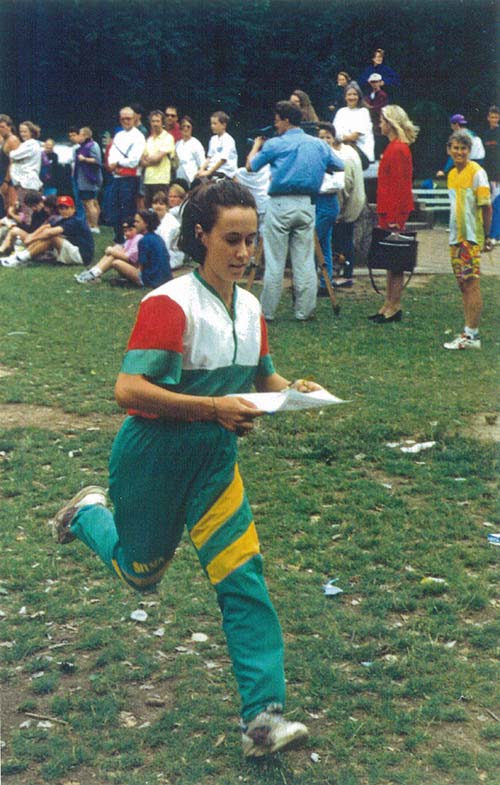 ---
"…the Waggaroo Orienteering Club's two-day classic at the weekend… opens with a warm-up event at Willans Hill in the centre of Wagga…" The Canberra Times, 24 June 1983
Allison came to Wagga Wagga in 1981 and in 1984 joined the Waggaroos Orienteering Club. Due to her running ability, she quickly found success in the U10 and then U12 groups.
In 1991 Allison graduated to the Junior NSW Squad which met for regular training camps throughout the year. Two years later, she made the Australian Junior Team which travelled to Castelrotto, Italy, to compete in the Junior World Orienteering Championships. Allison came a respectable 41st place from a field of 48 final qualifiers.
In 1994 Allison suffered knee problems which required a total knee reconstruction. After successful rehab, she was back in form, and was selected in the Australian Junior Team in 1995 (Denmark) and 1996 (Romania).
After a few tough years trying to crack the Australian Senior Team, and suffering further knee problems (and another knee reconstruction in 2000), Allison finally gained selection to compete at the World Championships in Finland (2001), Switzerland (2003), Sweden (2004) and Japan (2005). Her best result was placing 33rd in the A-final of the classic distance race in Switzerland.
Allison commenced a PhD in medical science at the John Curtin School of Medical Research (Australian National University) in 2000, and completed her studies in 2004. Following this, she travelled to Sweden to work for three years in Uppsala as a post-doctoral fellow at Uppsala University. During this time she competed for her Swedish club OK Linne.
Since starting a family and returning to Australia in 2008 Allison has been heavily involved in orienteering administration and organisation. She has served on the Orienteering ACT board, and was one of the main co-ordinators of the National 2010 Easter Carnival; the largest event in Australia, comprising seven races over ten days.
In between juggling children and work, Allison still manages some training and competes at a national level with the successful ACT team, the Canberra Cockatoos.
Allison is enjoying introducing her children to the sport of orienteering and to the fun of spending time in the forest with family and friends.