Diane Jenkyn
Category: Sporting Hall of Fame
Sport: Dressage
Year Inducted: 1996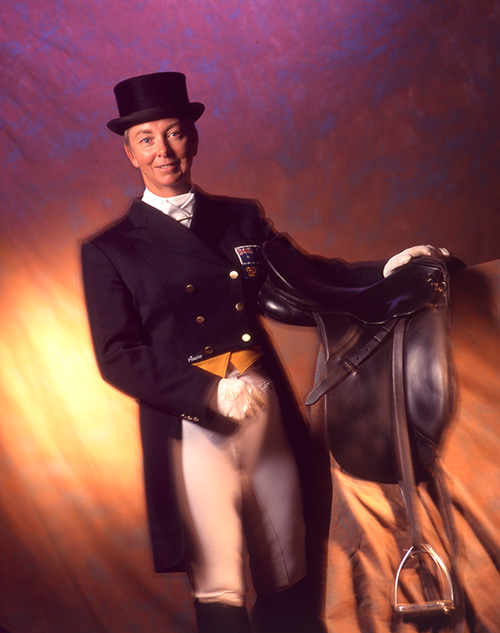 ---
"Di Jenkyn, a name synonymous with Dressage in Queensland and Australia." Virtual Equestrian
As a small girl, Diane always wanted a pony, and nagged her father until she got one. From then on, she rode constantly and trained, always wanting to excel. As a teenager, Diane did show jumping, eventing and hacking, before discovering dressage. She loved training horses, and realised she was good at it, which made her very happy, as she could never run or play ball games at school. Diane cites her parent's work ethic as a major influence in her approach to life and sport.
In 1986 Diane rose to national prominence when she won the Australian Grand Prix Dressage Championship with her first dressage horse, Clavos. In 1987 this team won the prestigious International Haig Cup, and in 1988, they were again Australian Grand Prix champions.
Diane and Clavos represented Australia in 1989 and helped win the Dressage Trans-Tasman Trophy, as well as individually winning the Ashburton Grand Prix, before Clavos retired from competition the following year.
In 1990 Diane and her second grand prix horse Adloo Moonshine were picked as National A-Squad members for the Atlanta Olympics. Adloo Moonshine was then sold to an American rider. Diane's next horse was a black gelding called Snowy River Blackwood. He brought Diane her first Australian Grand Prix in twelve years, winning in 2000.
Diane and Snowy River Blackwood were in line to represent Australia at the Sydney Olympics, but, at only nine years of age, Blackwood was not experienced enough to hold his good form up under selection trials. He and Diane continued their success at the Grand Prix level, however, and were never unplaced during their partnership. Diane was fortunate enough to partner the imported mare Florett to several wins at this time.
Today, in 2016, Diane is busy with her coaching career, but still finds time to prepare some of the young horses that she and her husband Peter are breeding.
Diane has enjoyed her long time in the top end of the Australian dressage competition scene and now loves to train riders and horses in the sport she will forever feel a part of.