Morris Hetherington
Category: Local Legend
Sport: Golf
Year Inducted: 2006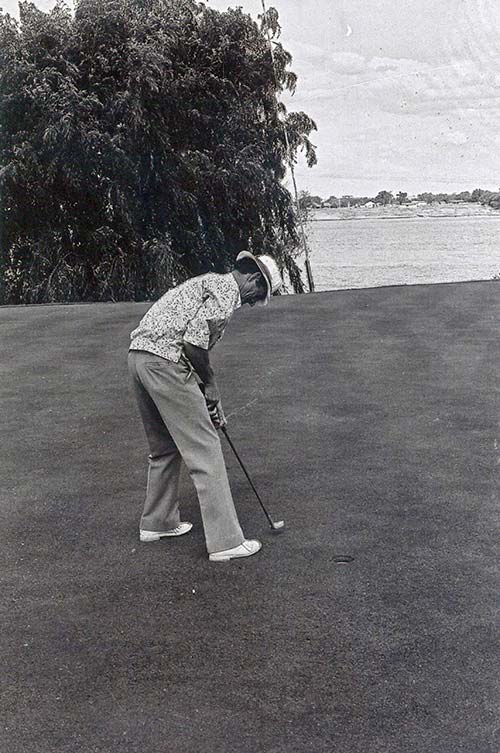 ---
"Hetherington is king of the left-handers!" The Daily Advertiser, 1989
Morris was born in Carlton, Victoria on 30 December 1923, and settled in Gregadoo with his family, well before World War II. Morris served with the Armed Forces throughout the War, and during his time in service, won the Army 100m sprint at Rabaul (Papua New Guinea). In his professional life, he was a proof reader with The Daily Advertiser newspaper.
An accomplished cricketer, at one time Morris played alongside fellow Sporting Hall of Fame alumni Beresford Ellwood, Jim Lenehan and Ken McMullen, captaining West Wagga to a first-grade Premiership. He also played with Bob Connolly who the local rugby field is named after.
In about 1953 Morris took up the sport of golf, as a left-hander, where he earned his nickname 'Leftie'. In his sporting career, he won various tournaments around the Riverina, and represented the Wagga Wagga Country Club in the National Left-handed Senior Championships, winning on two occasions. Morris played in each Senior Championship since 1981, travelling to Queensland, Victoria and Tasmania in order to compete. His wife Joan was his caddy at these tournaments.
Morris was a member of both the Wagga Wagga Country and City Golf Clubs, being a member of the former for over 50 years. In his time with the Country Club, he was Club Champion, Foursomes Champion and recipient of the Dr Tyrie Trophy. He also won the Wagga City Golf Club Veteran's Championship nine times. He even had his own practice putting green at his Wagga Wagga home.
Morris said that his biggest achievement was representing Australia at the World Left-handed Senior Championships and winning by fifteen strokes. He was a sprightly 64 years old at the time (1989). Before that win, Morris's sporting career highlight had been winning the same championships in Canberra eight years previously.
Morris passed away in January 2022 at the age of 99.