Nic Henderson
Category: Sporting Hall of Fame
Sport: Rugby Union
Year Inducted: 2006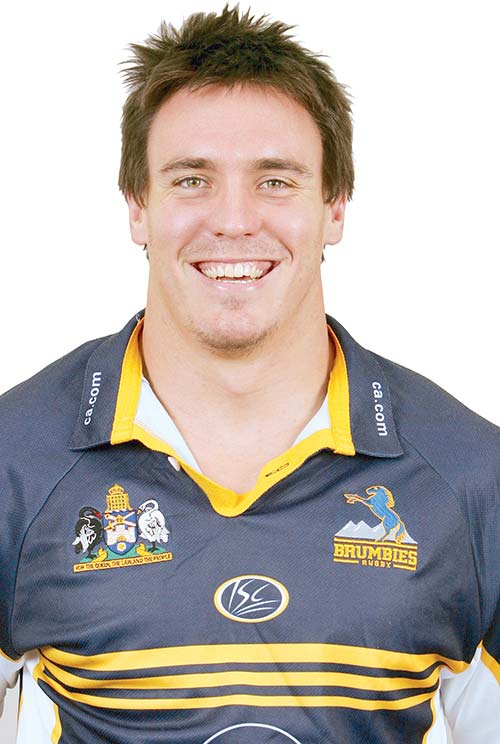 ---
"Nic will leave a strong legacy with this young playing group." Damien Hill, Rebels coach
Nic was born 1 May 1981 in Millmerran, Queensland. He moved to Wagga Wagga with his family in 1992, and attended Sturt Primary and Kooringal High schools. His local club football was all played with the Turvey Park Rugby League Club (the Turvey Park Wanderers), before he won a contract with the Melbourne Storm in 2000.
The majority of Nic's first two seasons was spent with the Storm feeder club, Norths in Brisbane. At the end of this period, in 2002, Nic switched from the NRL to rugby, and made an immediate impression in his first season with the Canberra Vikings, winning selection in the Australian U21 team as a result. He also signed a full-time contract with the ACT Brumbies to develop his game alongside Wallaby props Bill Young and Ben Darwin.
Nic's big break came in week one of the 2004 season when he made his Super 12 debut against the Blues at Canberra Stadium. From that time, his career progressed rapidly. He played 70 games over seven seasons for the Brumbies including 63 consecutive games, and made three Test caps with the Wallabies. That same year, Nic was awarded Super 12 Rookie of the Year (jointly shared with Drew Mitchell).
In 2010 Nic moved to the Western Force in Perth for the 2010 Super 14 season, where he played eight games and found a new lease of life with his rugby. Afterwards, and with some sadness, he decided to move back to the east coast, where he joined the Melbourne Rebels for their inaugural Super Rugby season in 2011.
During his rugby career Nic played both sides of the scrum, loosehead and tighthead. His preferred position was loosehead, which is where he played the majority of his matches, hoping to finish his career there.
Nic retired following the 2013 Super Rugby season. His last match in Canberra was his 118th, the second highest of any prop forward in Australian rugby history, behind NSW Waratah Alistair Baxter (121). When Nic retired, he held the Super Rugby record for playing the most games without scoring a try (119 games). In 2016 Nic works full-time with the Victorian Rugby Union (VRU) as their Manager of Elite Pathways and Coaching Development.