Kate Henderson
Category: Sporting Hall of Fame
Sport: Diving
Year Inducted: 1996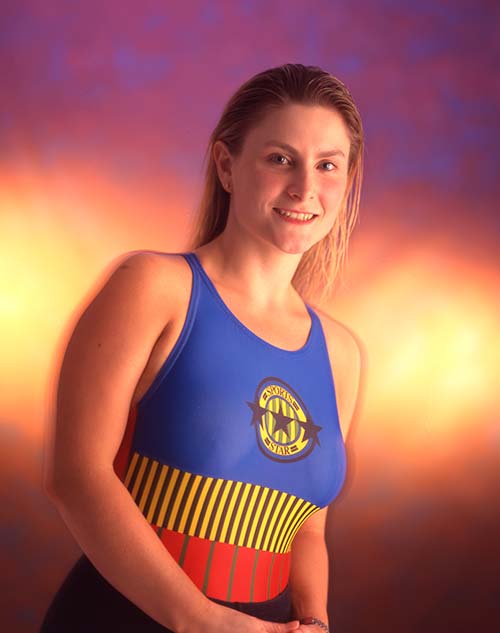 ---
"Wagga girl excels in diving competition" The Canberra Times, 11 March 1984
Kate was born in Echuca, Victoria, in 1971. In 1979, she moved to Wagga Wagga, where she attended Kooringal Primary and High Schools. Kate started diving in 1982 in the U10 level, and gained immediate success, winning gold at the NSW State Championships and the NSW Country Championships.
In 1984 Kate had her first international competition, competing at the New Zealand Nationals, and won three gold medals. The following year, she started training with Madeleine and Jack Barnett and won all school diving events through to the State Champion of Champions. On three occasions, Kate was awarded the 'Most Dedicated Diver in NSW' trophy (the only diver to have won it more than once).
A member of the NSW State team from 1982, she was appointed captain in 1988.
The biggest influences in Kate's career were her diving hero Greg Louganis and her parents David and Helen who drove her from Wagga Wagga to Sydney almost every weekend for a number of years for training and competitions. The travel was the biggest challenge for Kate.
After six years as a member of the Australian Team, Kate retired from competitive diving in 1990, due to a back injury which ended her career.
The personal attributes which helped Kate succeed in this challenging sport were her determination, focus and the fact that she was a tough country girl who was not afraid to try new dives and suffer a few injuries in the process.
Whenever Kate competed, she was very superstitious. She would never walk under the ladders leading to the diving boards or platforms, and always wore her 'good luck swimsuit' in major competitions.
Today, in 2016, Kate has swapped her swimsuit for a 'settlement suit', worn during important negotiations and court appearances in her career as a lawyer.