Quinten Hann
Category: Sporting Hall of Fame
Sport: Snooker
Year Inducted: 1998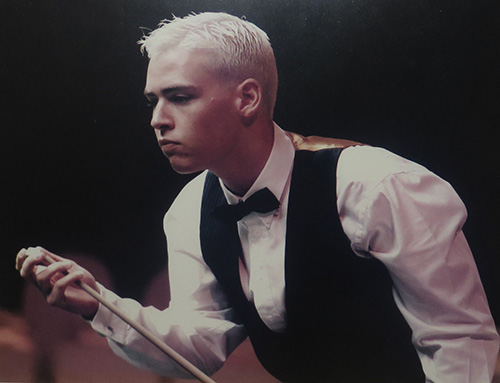 ---
"Snooker has always found room to accommodate its fair share of colourful characters, and Australia's mercurial Quinten Hann certainly fits the bill." Phil Harlow, BBC Sport
Born at Wagga Wagga on 4 June 1977, Quinten Hann, known in his heyday as 'The Wizard of Oz' was a talented snooker player who made his first century break at the age of ten.
Three years later, aged thirteen, Quinten became the youngest player ever to achieve a century break in an internationally televised tournament. That same year, he defeated renowned snooker legend Eddie Charlton.
In 1994 Quinten entered and won the World International Billiards and Snooker Federation U21 World Championships in Helsinki.
Quinten turned professional in 1995 and his talent was plain for everyone to see.
One of Quinten's trademark moves was the unconventional break off shot which he regularly employed by smashing a triangle of reds like a nine-ball pool player. This move put psychological pressure on inferior opponents who were faced with reds scattered all over the table in unfamiliar positions that made break building tricky.
In 1998 Quinten reached the quarterfinals of the UK Championship
Quinten won the Lindrum Masters multi-cue event in NSW in both 1998 and 1999 and became the first overseas player to win the Embassy World 8-Ball Pool Championship in 1999, held in Blackpool (U.K.)
Quinten missed six of the nine world ranking tournaments staged in the 1999 – 2000 season due to a broken collarbone sustained in a motorcycle riding accident. At the UK Championship in 2000, he famously played without shoes, after breaking his foot on a parachute jump the day before. He still managed the reach the quarter-finals.
After a terrible start to the 2002 – 2003 season, Quinten turned his form around in the second half of the campaign and managed to hang onto his top 16 status. The temperamental Australian failed to win a match in the first four-ranking events, but recovered by reaching the last sixteen of the European Open, Regal Scottish and Embassy World Championship and quarter-finals of the Citywest Irish Masters.
From 2002 – 2004 Quinten was ranked in the top 16 and reached World Number 14. Sadly, the higher Quinten climbed in world rankings, the less he seemed to practice, and the lower his competitive ambitions became. At the 2004 World Championship he lost to Andy Hicks in the first round and challenged his competitor to a fight.
In 2005 he turned up for his first-round match at the World Championship against Peter Ebdon not only massively hung over, but with a borrowed cue. He lost 10-2.
Quinten resigned his membership of the World Professional Billiards & Snooker Association and retired from the world of competitive snooker in February 2006, aged just 28.
Following his retirement, Quinten (now going under the name Quinten Hunter) started work in the finance industry, eventually taking up a position as general manager of broker Monarch FX.