Andrea Haberl (nee Campbell)
Category: Sporting Hall of Fame
Sport: Table Tennis
Year Inducted: 1998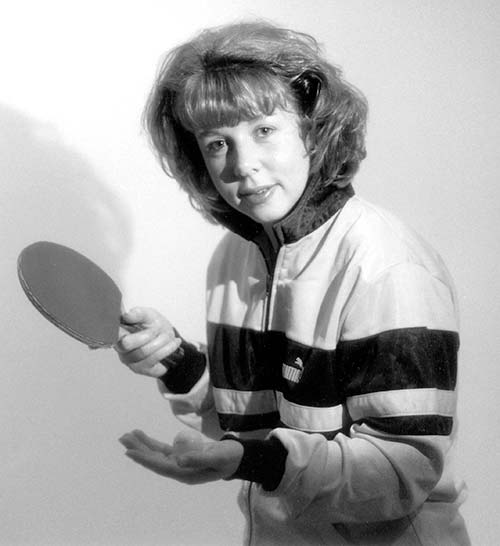 ---
"Andrea Campbell from Wagga dominated the women's and girl's age events." The Canberra Times, 27 July 1982
Born in Wagga Wagga on 22 May 1967, Andrea attended Maria Goretti Primary, Mt Erin High School and Wagga Wagga TAFE.
She began playing table tennis at the Wagga Police Citizens' Youth Club (PCYC) when she was eight years old, and first represented the state in the NSW Junior team just three years later. At twelve years of age, Andrea won her first Australian Junior title.
Andrea, nicknamed 'Soupy', played in the NSW Junior team from 1979 – 1984 and in the NSW Senior team from 1981 – 1990. She represented Australia in 1983 (Bahrain), 1984 (Pakistan), 1986 (Oceania, Sydney), 1987 (India) and 1988 (Japan). During this time, she was coached by Mr Zhou.
In total, Andrea won more than 150 events, including twenty NSW Open and Closed titles, ten New Zealand Junior titles and one senior title. In Australia, she was ranked between one and seven at the senior level between 1981 and 1990.
Andrea's greatest attribute in sport was her big heart and toughness as a competitor. Her husband Gary was and is, the biggest influence and inspiration in her life. Gary dominated the Australian table tennis scene for many years, and maintained a constant ranking of number one in the country, being selected to represent his country at the Seoul Games in 1988.
The players Andrea most admired were Adele Morrow (in juniors) and Kerrie Tepper and Paul Pinkewich (in seniors).
Today, in 2016, Andrea doesn't pick up a bat competitively, but runs a successful photography business with her husband in the Hunter Valley.