Greg Hawick
Category: Sporting Hall of Fame
Sport: Rugby League
Year Inducted: 2013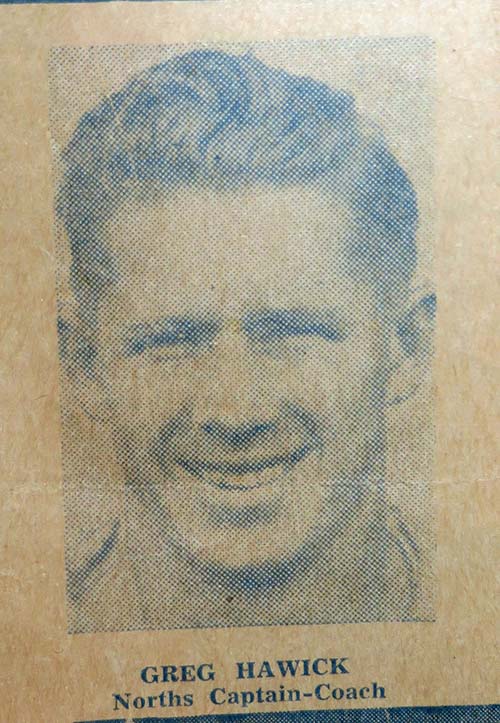 ---
"Despite his Sydney origins, Hawick is considered a part of Wagga's rich rugby league history, a marvellous tapestry encompassing players such as Steve and Chris Mortimer and Greg Brentnall." The Daily Advertiser, 28 January 2013
Greg was born in Sydney in 1932, but today, is counted as one of Wagga's greatest rugby league treasures. After an early career with the Alexandria Rover junior club, Greg made his first-grade debut with the South Sydney Rabbitohs in 1950 as a lock forward, but subsequently switched to the backline, playing half-back and centre.
His career with South Sydney stretched from 1950 – 1956, during which he played in five Premiership winning teams. In total, he played 84 first-grade games, scored 19 tries and kicked 62 goals for a total of 181 career points.
Greg was lured to Wagga Wagga in 1957, when he was offered the position of Captain and Coach of the Wagga Kangaroos Rugby League Club, and he held this position in 1957, 1958, 1961, 1962 and 1963.
During this time, he was instrumental in turning the Wagga Kangaroos into one of the most successful and respected clubs in rugby league. Greg captained the coached the Kangaroos to their first ever grand final victory in 1962, followed by a successive win in 1963.
In 1957 and 1958 Greg continued as a club player in Wagga Wagga. In 1958 he fought a landmark battle against the NSWRFL when, after having signed a contract with North Sydney, he reneged, chose to stay in Wagga Wagga, and was disqualified by the League.
An equity court ruled that the disqualification was a denial of natural justice, and, as a result, Greg was able to play the season in Wagga Wagga and was still selected in the State and National teams that year.
Greg did, however, play for North Sydney in the 1959 -1960 seasons. He returned to Wagga Wagga from 1961 to play country rugby league, and it was here that his career as a player ended, the result of breaking his jaw (for the second time!)
By 1964, Greg was a non-playing Coach of the Turvey Park Rugby League Club, a position he also held in 1965, 1966, 1979, 1980 and 1981. In 1970 he coached Junee Rugby League Club.
In 2004 he was named by the Rabbitohs as a reserve in their South Sydney Dream Team, which consisted of seventeen players and a coach representing the club from 1908 through to 2004. When, in 2007, a panel of experts put together an Australian 'Team of the 50s' Greg was selected as their five-eighth.
Greg continued to call Wagga Wagga his home until his death on Thursday 6 February 2020, aged 87.
'Hawick will be remembered as one of the greatest rugby league players to play in Wagga, and certainly one of the most professional.'

The Daily Advertiser, Saturday 8 February 2020