Amanda Gooden (nee Wheeler)
Category: Sporting Hall of Fame
Sport: Softball
Year Inducted: 2000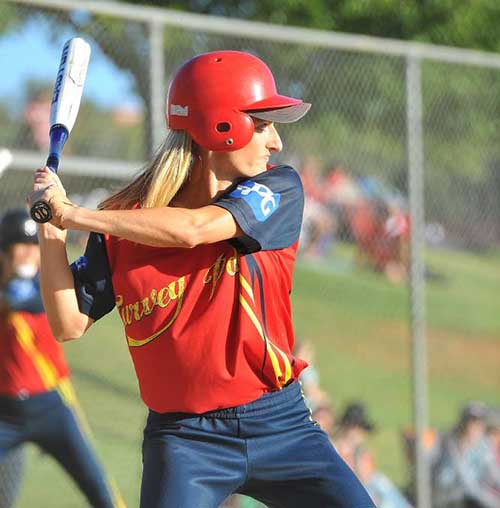 ---
"…a versatile player who can play catcher, outfield and second base." The Daily Advertiser, 24 October 2011
Amanda was born in Wagga Wagga on 16 January 1980, and began playing tee-ball at the age of seven with Wagga Wagga's Tatton Public School. Later, she progressed to playing softball with Kooringal Public School and then with the Turvey Park Softball Club.
Amanda represented NSW at U16, U19 and open levels. In 1997 she was selected for her first Australian team, going on to play at the Junior Women's World Superball Tournament in the U.S.A. and the World Series in Taiwan.
Notably, Amanda gained selection in many Australian open women's softball teams that played nationally and internationally, with destinations including Hawaii, Canada and Japan.
The biggest challenge in Amanda's career was travelling from Wagga Wagga to Sydney every weekend and to Canberra during the week for training sessions, all whilst completing the HSC and studying at Charles Sturt University.
Defining moments in her sporting career included selection for the Australian Open Women's team in 2001, being presented the Most Valuable Player for Australia award at the Trans-Tasman Challenge (2001) and being awarded a scholarship with the Australian Institute of Sport. Her greatest inspiration came from her parents who sacrificed so much, her coach 'Jock' Currie, who coached Amanda from the age of eleven, and her husband Luke, who helped with her training and travel commitments.
Amanda retired from representative softball following the 2004 National Championships, feeling that it was time to settle down.
Even with the birth of three children, and career as a primary school teacher, she never stopped being involved with softball, taking on the presidency of the Turvey Park Softball Club and coaching junior teams. In 2011 Amanda re-entered the national softball stage after her six year hiatus, when she was selected in the NSW squad for the Edebone-Weber Shield in Melbourne.