Patrick Dwyer
Category: Sporting Hall of Fame
Sport: Athletics
Year Inducted: 2000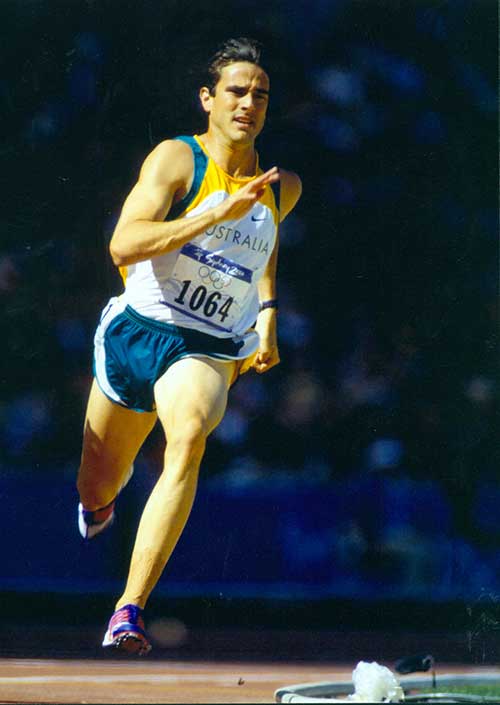 ---
This former gun who many had written off, went from a "Silver Nobody" to a "Silver Bullet" The Daily Telegraph, 30 August 2004
Patrick was born in Wagga Wagga on 3 November 1977, and was a pupil of Sacred Heart Primary School, completing his schooling at St. Joseph's College, Hunters Hill.
He began his athletics career with the Kooringal-Wagga Athletic Club, competing at the NSW Little Athletics Championships in 1988 and 1989. At the 1995 GPS Athletics Championships, he broke records in the 100m, 200m and 400m races. Subsequently, the 400m became Patrick's specialty.
In 1997 Patrick represented Australia at the World Student Games in Sicily, running in the 4 x 400m relay. At the Commonwealth Games in Kuala Lumpur the following year he again represented Australia in the 4 x 400m relay, as well as in the 400m. Later that year he competed in the World Cup in Johannesburg, South Africa in the same race.
Patrick represented Australia once again in the 4 x 400m relay at the World Championships in Seville, Spain in 1999. In 2000 he was the 400m Australian National Champion.
On a tour of South Africa in 2000, Patrick recorded the third fastest time for an Australian running the 400m, running 44.73 seconds in Pretoria. This breakthrough was the beginning of not only a successful individual career for Patrick, but also a resurgence in Australia of 400m running.
Patrick ran for Australia at the 2000 Sydney Olympic Games and made the semi-finals. In 2002 he represented his country once again, this time at the Commonwealth Games in Manchester, England.
'Silver Nobodies' Make The History Books
It wasn't until the 2004 Olympic Games in Athens, however, that Patrick went down in the history books. Here, he was part of the team which took silver in the 4 x 400m relay finals. The 'Silver Nobodies' as they were initially called, were made up of a Golden Gloves champion (John Steffensen), the son of a New Zealand soccer star (Mark Ormrod), a former gun who many had written off (Pat Dwyer) and a former South African (Clinton Hill). After this race, however, this group of men became the 'Silver Bullets', when they became Australia's first relay medal winners since the 1956 Melbourne Olympics.
In 2004, the same year he won Olympic silver, Patrick graduated from the University of NSW with a Bachelor's degree in Building Construction Management. At university, he was on a Ben Lexcen Sport Scholarship, and due to his athletic commitments, it took him eight years to complete his four year degree.
Apart from his parents, teachers and coaches, the biggest influence on Patrick's career were elite runners like Olympic legend Michael Johnson.
In 2012 Patrick was inducted into the UNSW Sporting Hall of Fame.