Cheryl Drummond
Category: Sporting Hall of Fame
Sport: Carriage driving
Year Inducted: 2006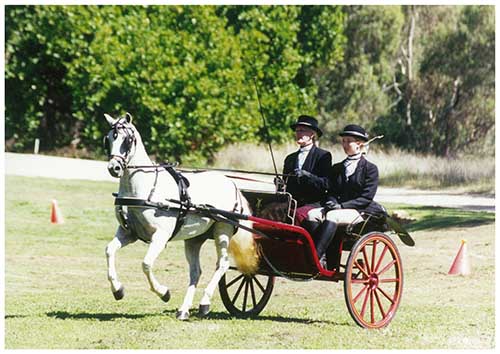 ---
"I can remember being interested in horses from a very early age." Cheryl Drummond
Cheryl was born on 23 November 1948 in Bega on the NSW south coast, but grew up in Wagga Wagga. Cheryl was unable to own a horse at the time as her family lived in central Wagga. However, Cheryl and her identical twin sister Judy, used to borrow horses from North Wagga, which allowed them to ride on weekends.
Cheryl enjoyed Pony Club camps at the Wagga Showgrounds, and remembers being instructed in riding by Joe Hawkins and Ashley Pearce. Her hobby continued on until she was married, and was able to purchase her own horse, 'Tumbleweed', who had been a riding school horse.
By 1973 Cheryl was an Instructor with the Wagga Wagga Pony Club on Ashmont Avenue, and was actively competing in Ridden Dressage locally, in Sydney and in Canberra.
From 1980 – 1986 Cheryl held the position of Zone 12 Chief Instructor for the Pony Club Association of NSW, as well as a Club Examiner and Senior Instructor. It was around this time that she purchased a very badly deteriorating pony sulky at an auction, restored it, and the rest is history!
'Mulwaree Image' and 'Mac'
Cheryl's first competition horse was a Shetland pony off her own stud, a stallion called 'Mulwaree Image'. After successfully competing with him for a number of years, she purchased a larger pony called 'MacTavish'. 'Mac', as he was commonly known went on to become NSW and Australian Champion many times. In 1998 Cheryl and Mac won the Joe Hawkins Cup in its inaugural year.
After 'Mac' Cheryl's last competition horse was a 12.2 hands high Hackney Pony, 'Dunolly Buchaneer' ('Bucky'). He had great action and spirit, and with him, Cheryl won the Joe Hawkins Cup for Combined Driving in Wagga Wagga in 2001, 2003, 2004, 2005 and 2006. Cheryl and Bucky also won the NSW Driven Dressage Championships, the NSW CDE Championships, the NSW Cone Driving Championships, the NSW Show Driving Championships, and together, they have attended and won numerous district Agricultural Shows.
What is Carriage Driving?
Cheryl's sport, Competition Carriage Driving was devised by Prince Philip (with other driving enthusiasts) when he could no longer safely compete in Polo games. Driving was another way that he could maintain his interest in horses whilst still competing. The competition is divided into three major Competitions: Presentation & Dressage, Marathon or Cross-Country and Cone or Obstacle Drive.
In November 2002 Cheryl represented Australia at the Dilmah International Carriage Classic, where she contested the class for Ponies in Single Harness against six other drivers. She won the Dressage stage, came 5th in the Marathon and 3rd in Obstacle Driving, finishing 3rd overall.
That same year, she won the Australian Driving Classic, and in 2004 was victorious in the NSW Champion Driven Dressage Open Pony/Horse event.
In 2008 Cheryl retired from competition. Today, in 2016, she continues to train and judge, while also running a pony stud at Big Springs. In 2006 she was made a Life Member of the Lake Albert Pony Club. She is also a Life Member of the Wagga Pony Club, now the Wagga Bidgee Pony Club.