Terry Daniher
Category: Sporting Hall of Fame
Sport: Australian Rules football
Year Inducted: 1998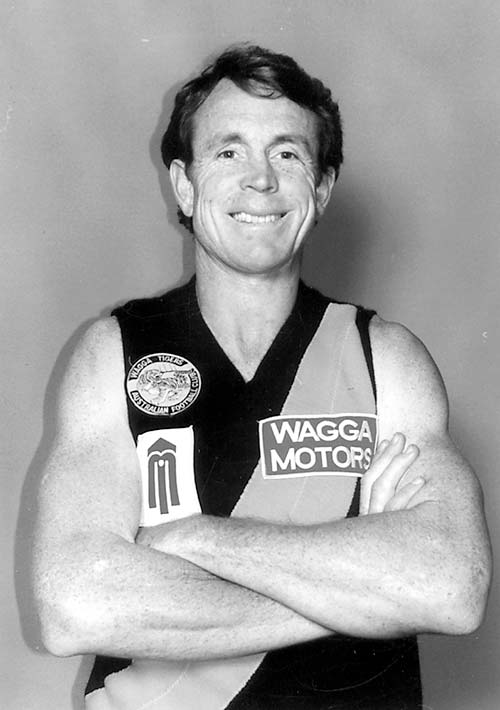 ---
"A great Essendon captain, who was aggressive, versatile and led by example. Daniher was extremely mobile, took a good mark and could hold down any position." Biography, Essendon Football Club
Terry was born on 15 August 1957 in West Wyalong, and grew up on the family farm at Ungarie, northwest of Wagga Wagga. He attended Ungarie Central School until Year 10, when he left and became a farmer.
Throughout his childhood Terry developed his love for sport, in particular, Australian Rules football. He played in the Northern Riverina Football League (NRFL) on Saturdays and played rugby league in school matches. Ungarie was his home team, and in 1973, Terry played in a Grand Final with his father Jim. Terry was aged fifteen, Jim was forty-four.
During his time in the NRFL, Terry won several Best and Fairest Awards. In 1975 he played with Ariah Park – Mirrool in the South West District Football League.
In 1976 Terry was recruited by the South Melbourne Football Club (the Swans), and played a total of 19 games for them that year. After finishing with the Swans, he almost signed to Fitzroy, but was instead traded to the Essendon Bombers in exchange for midfielder Neville Fields.
When Terry first joined Essendon he distinguished himself as a full forward, but by 1982, he had become a versatile adaptable player who could perform equally well in attack or defence.
As Captain of the Essendon (a position he took in 1983) he was an inspiration to all.
Terry played 313 professional VFL/AFL games, mainly for Essendon, scoring a career total of 470 goals. He appeared in four Grand Finals and won two Premierships (1984 and 1985). In 1982 he was voted the Club's Best and Fairest, and made the All Australian team three times (in 1983, 1985 and 1988).
Terry was the first in the Daniher dynasty, one of football's most loved families. In 1990 Kevin Sheedy (Essendon coach from 1981 – 2007) brought four of the Danihers together to play for the Bombers. Terry, Neale, Anthony and Chris played two games together – one for Essendon and one for NSW in a State game against Victoria – making them the only four brothers in the history of football to ever run out together.
When all the brothers played for Essendon, Sheedy allowed each of them to start on the ground. Neale began at full-forward, Anthony on the wing, Chris in the centre and Terry at full-back.
In 1993 Terry returned to the Riverina and became Captain/Coach of the Wagga Tigers, a position he held until 1998. During that time, he led the team to five Premierships and one State Championship. His record over six years was 117 wins out of 128 games. In 1999 he returned to Essendon to take up a coaching position.
Terry finished coaching AFL in 2007 following stints with Essendon (four years), Collingwood (one year), St. Kilda (two years) and Carlton (two years). He coached the Victorian Country Football League (VCFL) for the 2008 National Country Championships and worked in the VCFL 'Back to Grass Roots' program. The latter involved conducting coaching/motivation clinics throughout regional Victoria and southern NSW.
Taking the Community by Storm
Terry now lives with his family in North Balwyn. In 2009 he founded his own property maintenance business called TD Services. Property maintenance is not a new industry for Terry. He, along with his brothers, created a Facilities Management business in the late 1980s which expanded over the years and today services large commercial contracts in this field.
On Saturday 11 June 2016 Terry made a comeback on the football field in Ungarie, returning home to celebrate 100 years of football. To mark the occasion, the small township hosted rivals West Wyalong – Girral in the round nine Northern Riverina League clash at Ungarie Recreation Ground.
It was the first time Terry had played for Ungarie since 1976. When he joined younger brother Chris on the Ungarie team, he did so under one condition: that he would see how many numbers they had first. He didn't want to put any young blokes out. He also wanted to see how the conditions were, saying 'I'd rather be standing around the fire than running around.'
Regardless of the outcome, the prospect of Terry returning to his old stomping ground took the community by storm.