Ken Cooke
Category: Sporting Hall of Fame
Sport: Rifle Shooting
Year Inducted: 2003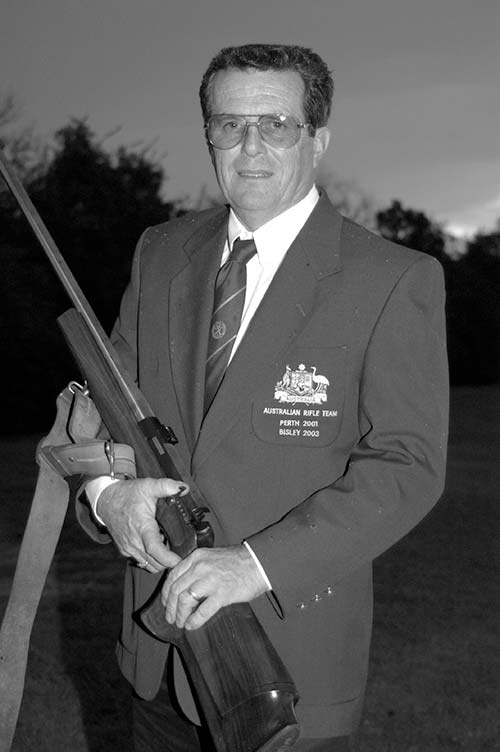 ---
"The worst day on a rifle range is better than the best day at work." Ken Cooke's favourite quote
Born on 1 December 1952 in Wagga Wagga, Ken attended Turvey Park Primary, Wagga Wagga High School and Riverina TAFE.
He began rifle shooting as a pastime in 1986, and since that time, has been a member of six NSW Rifle teams. Ken was a member of the NSW Rifle team in 2000, which won the Junior Millennium Teams match at Bisley in England. The competition was fierce, with 23 states, provinces and counties competing for the win.
For twelve years, Ken was captain of the Wagga Wagga 61st Battery Rifle Club, until they merged with the Lockhart Rifle Club in February 2003, becoming the Explorer's Rifle Club. Ken remained captain of the Club until 2006.
Ken has also worked in an administrative role with the NSW Rifle Association (NSWRA) since 2004, and has also held the position of the NSWRA representative to the National Rifle Association of Australia. He has also been Wind Coach for the State team.
During the NSW Queens Championships held in September 2006, Ken was placed 7th in the McIntosh two-day series. In 2007 Ken was named as a shooter in the Australian Rifle Team which travelled to Canada to contest the Palma Long Range Championship. In the Grand Aggregate (the total of the two abovementioned shoots, Ken was placed 8th overall).
In April 2016 Ken competed in Lockhart, in a short range 300 Yard shoot. In the Target Rifle event, Ken scored 89.5, coming in 5th place, behind winner Philip Bain and 2nd place getter Graham Crowe, both fellow inductees in the Sporting Hall of Fame.
Wagga Wagga is still Ken's home in 2016.