Adam Commens
Category: Sporting Hall of Fame
Sport: Hockey
Year Inducted: 1998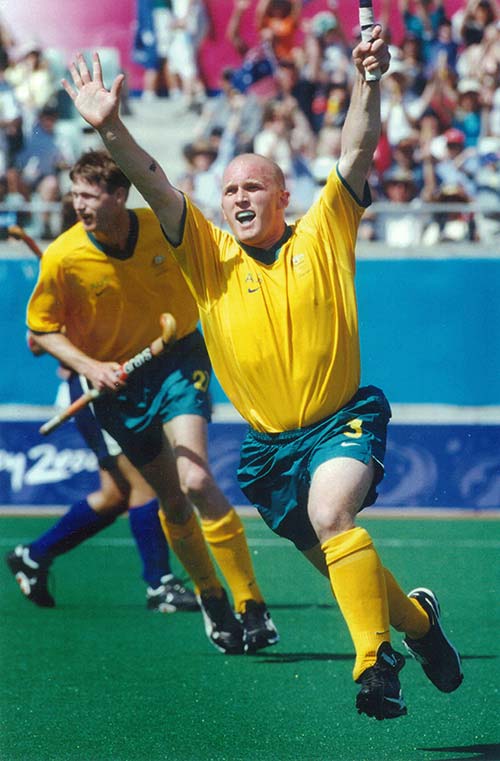 ---
"Pain is temporary, Victory is forever." Adam's favourite quote
Born in Junee on 6 May 1976, Adam attended Eurongilly Primary, Junee Primary and Junee High schools. Throughout most of this period, he played in the Wagga Wagga Hockey Competition.
Adam represented NSW in every age group from U13 to Opens. In 1996 he captained the Australian U21 team on their European tour. This team then went on to win gold at the 1997 Junior World Cup. That same year Adam made his debut with the Kookaburras, playing a Test Series against Pakistan.
As a Kookaburra, Adam played 143 Internationals, including five Championship Trophies, two World Cups, Commonwealth Games (gold medal) and Sydney Olympic Games (bronze medal). He played mid-field, and scored 20 international goals before retiring to pursue a career in coaching.
In 2011, while studying for his Bachelor of Physical Education at the University of Western Australia, Adam began an interest in coaching, set himself a plan and, while continuing his international career, began building a stock of coaching knowledge.
After leaving the Kookaburras, Adam played for the Royal Antwerp Hockey Club (Belgium), and began coaching their women's team. He then landed a role coaching a Belgian junior side. Once he'd retired as a player, his transition from international hockey player to international hockey coach was seamless.
In 2007 he was asked to coach the Belgian national side. For the next three years, Adam coached the Belgian Men's Hockey team, and led them to their first Olympics in 32 years (Beijing, 2008). At the time he was just 32 years old, and was the youngest hockey coach at the Games.
In November 2010 Adam was lured back to Australia, and in early 2011, he was appointed Coach of the Australian Women's Hockey team, the Hockeyroos. Since that time, he has guided the team to a silver medal at the 2014 World Cup, a gold medal at the 2014 Commonwealth Games, Champions Trophy and World League final, consecutive Oceania Cup triumphs and the Champions Challenge title, amongst others.
When Adam took charge of the Hockeyroos, they were ranked 7th in the world. They then climbed to 2nd under his guidance. Today, they are 3rd, and are currently well under way with their preparation for the 2016 Rio Olympics.
In February 2016 Adam announced that he will leave his role at the end of his contract, following the Rio Games, so that he can return to his young family in Belgium.