Megan Chisholm (nee Taylor)
Category: Sporting Hall of Fame
Sport: Karate
Year Inducted: 2000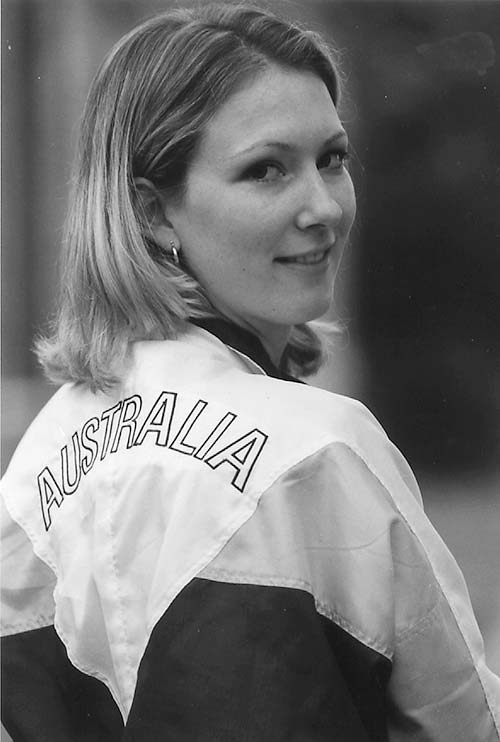 ---
"Whatever it takes, just do it." Megan's advice to those following her in this sport
Born in Wagga Wagga on 3 February 1978, Megan attended The Rock and Lake Albert Primary schools and Mt. Erin and Trinity High Schools before studying at Charles Sturt University, where she works today.
In 1988 Megan began training at the age of ten, with the Riverina Goshin Ryu Karate Club, under the instruction of Sensei Ian Thomas. Within five years Megan had gained her Black Belt. Whilst still training, Megan began teaching self-defence classes at Kooringal High School and commenced teaching both junior and senior karate classes in Wagga Wagga and at Charles Sturt University.
It is surprising to look back on Megan's sporting career and learn that in her early teenage years, she was too scared to compete in kumite (sport karate) for fear of injury. However, she did compete, and in 1994, she attended the NSW State Karate Championships, becoming the first Riverina competitor to win a gold medal for karate at a State level. Following her success in these championships, Megan was invited to travel to Brisbane and compete in her first Australian Karate Open Championships.
Since this trip to Brisbane, Megan has not looked back, and has gained more experience at every tournament that she has attended. She has competed at State, National and International levels, resulting in five gold, six silver and five bronze (State level), seven gold, four silver and six bronze (National level) and two gold, one silver and one bronze (International level).
Charles Sturt University Achievements
In 1996 Megan received the Charles Sturt University Bursary Award as 'a first-year full-time student who is active in one or more constituent sports and who, in representing Rivcoll (the student's association), shows high standards in sporting performance whilst maintaining a good academic record.' At the same awards evening, she was also named Charles Sturt University's Sportswoman of the Year and received both a Half Blue for NSW representation and Full Blue for National representation.
The following year, Megan was selected in the National Squad to train in a four day intensive workshop at the Australian Institute of Sport in Canberra. That same year she was selected as an Australian Karate Team member to compete at the Oceania Karate Championships in Brisbane, where she won gold and silver for Australia.
In 1998 Megan graduated from Charles Sturt University (CSU) with a Bachelor of Arts (Graphic Design) and she continued to train and compete in Local, State and National karate tournaments.
In 1999 Megan was the Public Relations Officer for Rivcoll Union, CSU's student association. This position allowed her to continue training and teaching in the Riverina. The following year she became the Graphic Designer in the Division of Information Technology at CSU, also forming her own graphic design business with two other partners.
With consistently good results at a State and National level, 1999 saw Megan selected as an Australian representative to compete at the Ladies International Karate Cup held in Tokyo, Japan. Megan was again selected in the Australian Karate team in 2000 to compete at the Ladies International Cup in Sainte Maxime, France. In 2001 Megan was selected in the Australian Karate team to represent Australia at the Oceania Karate Championships in Vanuatu.
After ten years of competition, Megan announced she would be retiring from sport karate, following the Australian Karate Federation national championships held at the Gold Coast, Queensland in 2003. Megan finished a successful era of competition on top, winning gold in the Women's 53-60kg kumite division.
In 2004 Megan married Luke Chisholm and they have made their home in Wagga Wagga with their three children.
Megan graded to 3rdDan black belt in March 2005, the first female to achieve this high rank in Goshin Ryu Karate throughout the world. She continues to instruct students of all ages from around the Riverina and started 'Kiddy Karate' classes for 3-5 year olds in 2009.