Simon Carruthers
Category: Sporting Hall of Fame
Sport: Squash
Year Inducted: 2000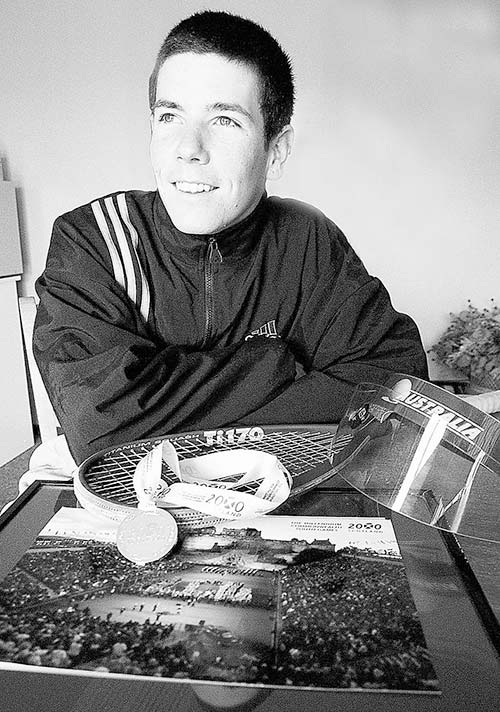 ---
"The story of the men's winner was enhanced by the fact that he was using equipment from a bygone era." Western Advocate, 22 June 2016
Simon was born in Wagga Wagga on 28 December 1982, and attended Tolland Public School before moving to Uranquinty, where he attended the local primary school. He began playing squash with his elder brother Aaron (who later became a good rival) at junior training sessions on Saturday mornings.
Since those days, Simon has progressed to an elite standard.
From 1995 – 1998 Simon attended Mount Austin High School. During this time, he represented the school in the NSW Combined High Schools (CHS) squash team and the CHS Riverina team each year. Simon was chosen to represent the NSW CHS team from 1996 until 1998.
In recognition of his representation during this period, Simon received the Secondary Sporting Blue Award from the Riverina School Sports Association in 1998.
In the same year, he also received the Sesquicentenary Award from the NSW Department of Education and Training for Outstanding Achievement in Squash.
In 1999 Simon started playing in the men's open grade in NSW Country tournaments. One of Simon's most thrilling and challenging matches was the final of the 1999 AMP Banking NSW Squash Open. At sixteen years of age, he competed in the Men's Sydney grade, where he played World No. 1 Women's Squash Champion, Michelle Martin. He won three games to two, making him the Sydney A1 winner.
At this time, Simon also played in the four man Elanora Heights team in the Sydney Premiership Competition, which won the premiership after a 21 year club drought. In June 2000 Simon finished 4th at the Malaysian All Stars U19 Championships in Kuala Lumpur.
Simon moved to Sydney in 2000 to play in the Premier Grade Men's Competition, probably the strongest competition in Australia. Over the coming few years he established himself in the top grade of this field, and eventually became the No. 1 matrix ranked player in this competition.
In 2004 – 2005 Simon moved to Adelaide for a period, to train under World Masters Champion Geoff Davenport, who was head coach of the Australian Squash High Performance Unit. While under Geoff's direction, Simon travelled to England, Canada and New Zealand, reaching his highest men's world ranking of 65th. His best result was winning the 2005 New Zealand Open in Auckland.
Simon now resides in Sydney, and still plays competitive squash. In 2011 he won the men's division at the Bondi Open, but the following year, was defeated by Aaron Francomb in a fast paced encounter which delighted the full house at the Bondi Squash Club.
In 2015 Simon took out the men's open division at the annual Bathurst Open, when he defeated 2013 champion Michael Bolton in straight sets in the final. It was Simon's third Bathurst crown.
Today, Simon is still grateful to the members of the Tolland Squash Centre for their help and encouragement over the years, especially to his coach of nine years, Garry Skeers.